Mountain cycling in North Georgia offers the best views overlooking lakes, lush forests, streams, and rivers, in pristine State Parks/Wildlife Management areas.
Starting from rolling hills to steep mountain grades many trail rides offer a variety of degrees from the novice to experienced to go through the backcountry of these beautiful mountains.
It is highly recommended that all levels of skill be prepared for your trail ride.  Complete information about the trail, which includes distance, terrain, weather conditions, plus good equipment and supplies for your excursion, will help to make the trip enjoyable.
Organizations such as IMBA, SORBA, SABA, NGCA, and NGBDA can tell you specifics about trails, races, and other group ride events. Visit a local bicycle shop, listed in our area directory for further information. Websites we like include www.trails.com and www.dirtworld.com
Listed below are just a few of the numerous biking trails over a broad range of North Georgia"™s eight counties to explore.
Happy Trails!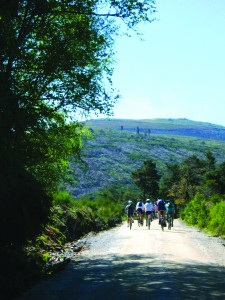 Ladyslipper – Cornelia – 7.2 miles
Jasus Creek Loop – Helen – 12 miles
Tallulah Gorge State Park – Shortline Rail Trail  – 2.4 miles
Tallulah Gorge State Park – Tallulah Gorge Trail  – 20 miles
White Twister – Clayton – 4 miles
Cooper Creek – Blairsville – 12.4 miles
Davenport Mountain – Blairsville – 5 miles
Sosbee Cove Suches – 7.8 – miles
Duncan Ridge – Suches – 20.5 miles
Flat Creek Loop – Blue Ridge – 6 miles
Hickey Knob – Blue Ridge – 4.6 miles
Long Branch Loop – Blue Ridge – 2.3 miles
Bear Creek – Ellijay – 8 miles
Mountaintown Creek – Ellijay – 19 miles
Ridgeway Bike Trail – Ellijay – 5.6 miles
Rich Mtn Wildlife Mgmnt Area – Ellijay – 6 miles
Bull Mtn / Moss Creek – Dahlonega – 11.3 miles
Montgomery Creek Loop – Dahlonega – 8.5 miles
Turner Creek Loop – Dahlonega – 4.4 miles