Come See Our Neck of the Woods
North Georgia State Parks include a variety of recreational activities besides camping and welcome travelers to explore "Our Neck of the Woods". Enjoy your passion to see a waterfall, go horseback riding, canoeing, fishing, hiking, biking, or just have a picnic. The great State Parks of North Georgia are waiting for you to watch nature at it's best!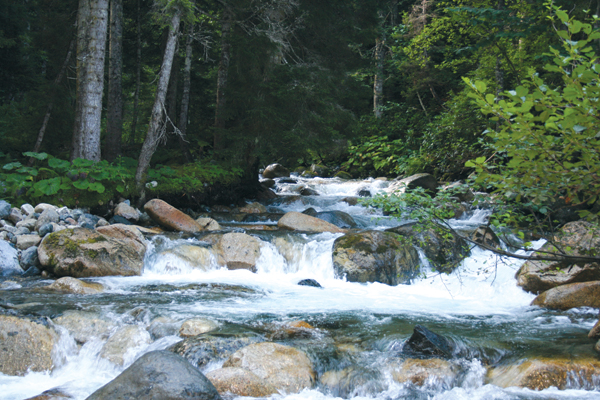 Black Rock Mountain State Park Park (706) 746-2141
Reservations (800) 864-7275
Black Rock Mountain State Park, named for its sheer cliffs of dark-colored biotite gneiss, has the highest altitude of 3,640 feet. Numerous scenic overlooks provide spectacular 80-mile vistas of the Southern Appalachians, and several hiking trails lead visitors past wildflowers, cascading streams, small waterfalls and lush forests. RVs exceeding 25 ft. are not recommended, as the park has a two-mile climb with a 10% grade and tight turns.
Moccasin Creek State Park Park (706) 947-3194
Reservations (800) 864-7275
Known as the park "where spring spends the summer," Moccasin Creek is located on the shores of lovely 2,800-acre Lake Burton. Accessibility offers easy navigation for large RVs, children's bicycles and wheelchairs. This also includes a fishing pier that sits above a trout-filled creek open only to physically challenged visitors, senior citizens and children.
Tallulah Gorge State Park Park (706) 754-7970
Camping (706) 754-7979 / Picnic (706) 782-4014
One of the most spectacular canyons in the eastern U.S., Tallulah Gorge is two miles long and nearly 1,000 feet deep. A suspension bridge sways 80 ft above the rocky bottom, providing spectacular views of the river and waterfalls. Visitors can hike rim trails to several overlooks, or they can obtain a permit to hike down to the gorge floor. The Jane Hurt Yarn Interpretive Center highlights the rich history of this Victorian resort town and is open daily.
Fort Mountain State Park Park (706) 422-1932
Reservations (800) 864-7275
Fort Mountain derives its name from an ancient 855-foot-long rock wall, which stands on the highest point of the mountain. The mysterious wall is thought to have been built by Indians as fortification against other more hostile Indians or for ancient ceremonies. The State Park encompasses over 3,712 acres with a 17-acre lake and swimming beach. Many site are available for tent, trailer, RV, or primitive horse-camping. Trails lead to spectacular views in this pristine high country North Georgia area.
Smithgall Woods State Park Park (706) 878-3087
Reservations (800) 864-7275
Dukes Creek, one of North Georgia's premier trout stream, runs through this spectacular mountain property and has become known for it's catch-and-release fishing. Eighteen miles of roads and five miles of trails allow hikers and bicyclists to explore hardwoods, streams and wildlife. Dukes Creek Falls has a direct trail for cottage guests to view.
Vogel State Park Park (706) 745-2628
Reservations (800) 864-7275
Vogel State Park is located at the base of Blood Mountain in the Chattahoochee National Forest. Cottages, campsites and primitive backpacking sites provide a range of overnight accommodations. The park's twenty-acre lake is open to non-motorized boats. During summer, visitors can cool off at the scenic lakeside beach. Hikers can choose from a variety of trails, including the popular four-mile Bear Hair Gap loop, an easy one-mile lake loop, and the challenging thirteen-mile Coosa Backcountry Trail.
Amicalola Falls State Park Park (706) 265-4703
Reservations (800) 864-7275 / Lodge (800) 573-9656
Amicalola, a Cherokee Indian word meaning "tumbling waters," is an appropriate name for this 729-ft fall, the tallest cascading waterfall east of the Mississippi River. Springer Mountain, the well known start to the famed Appalachian Trail, is just 8.5 miles from Amicalola by trail. There are numerous other trails are available for shorter journeys along with cottages and campgrounds. Amicalola lodge is located at the top of the mountain for those who prefer traditional hotel comforts, with a restaurant that provides diners with a spectacular view.
Unicoi State Park Park (706) 878-2201
Reservations (800) 864-7275 / Lodge (800) 573-9659
Unicoi State Park, named from the turnpike that was the early means of transportation, is over 1,050 acres of beautiful nature trails. It includes a 53 acre lake for non-motorized boats and a swimming beach. Enjoy flora, fauna and abundant wildlife as you picnic or hike a trail. Campsites and Cottages provide campers with many accommodations, including a 100 Room Lodge and Conference Center with a restaurant.