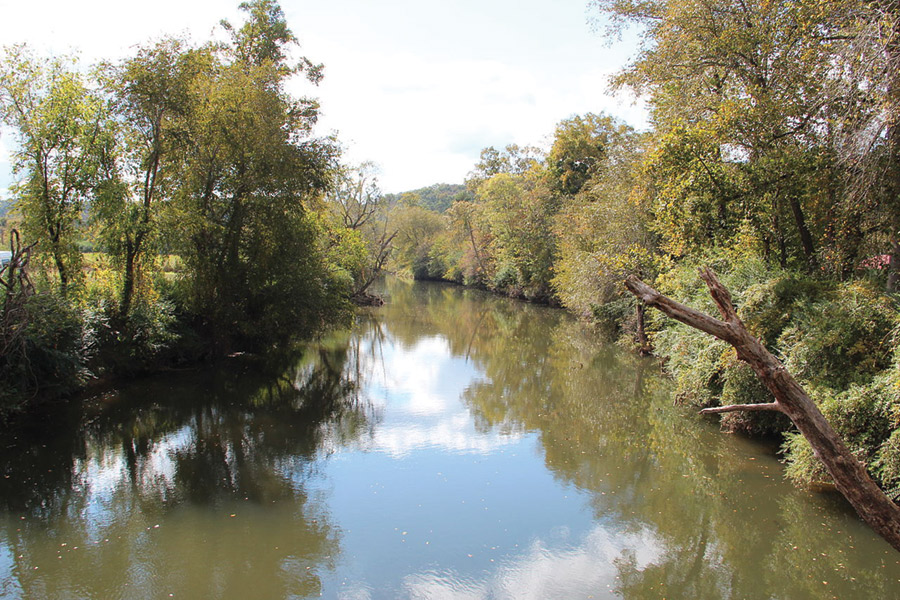 Gilmer County was created from Cherokee County in 1832, and a portion of Union County in 1856. The county was named for George R. Gilmer, former U.S. House representative and governor of Georgia. Early settlers prospected for gold plus logging led to the arrival of the iron rail in 1834 and Ellijay became the county seat of a classic railroad town.
Ellijay or as the orignal site of the Cherokee Indian settlement of "Elatseyi" meaning "New Ground" or "Green Place" made Gilmer County the ideal place for being the "Apple Capital" of Georgia, providing more than 600,000 bushels of delicious mountain grown apples each year. It's 439 square miles of breath-taking beauty include crops of Peaches, Blueberrys, a variety of vegetables and several Vineyards for Wine tasting.
Numerous outdoor & indoor attractions keep visitors coming back to stay, play, eat, shop, and be entertained throughout the year. This Road trip explores several different communities in Ellijay and surrounding communities to hike, bike, see waterfalls, enjoy the lake, or just to relax viewing majestic mountains for scenery. To get more information visit www.GilmerChamber.com
Downtown Ellijay: Discover the simple pleasures of small town life as Ellijay is a true " Main Street" community where you'll find the town square beautifully accented with brick-lined sidewalks and a round-a-bout traffic circle by the courthouse. Many Festivals and Celebrations happen throughout the year including Georgia Apple Blossom Festival and many holiday events. Walk around quaint shops, antique stores, galleries, and enjoy great food at the local restuarants and taverns.
Gilmer Arts and Heritage Association offes a wide variety of performances throughout the year. The Gallery shows annual juried art exhibitions and displays over 35 artist works including quilt and fiber art shows. The George Link, Jr. Gilmer Arts Playhouse in downtown Ellijay venue brings the finest in musical and theatrical entertainment.
Cherry Log: "Cherry Log" is the English translation of the former Cherokee village which once stood at the present unincorporated town site. Although mainly a residential community, Goose Island Lake is a reservoir that brings fishing a variety of bass, trout, bream, & bluegill. For fishing regulations visit Georgia Fish & Wildlife (gadnr.org) Located just south of this area is the Whitepath Golf Club, a public 18 hole golf course with rolling hills and beautiful mountain views.
Rich Mountain: At 4,050 feet, Rich Mountain is home to an abundance wildlife including deer, bears, turkey, and botanical life in the rich soil. Several advanced hiking & biking trails include AaronMountain, Owltown Creek, & the Cartacay River where you will find creeks & waterfalls. The 13,276-acre Rich Mountains are primarily wilderness (9,649 acres) and primitive backcountry (3,627 acres) that is not heavily used. Experienced hikers are reccomended for this area to be well prepared with compass, maps, and hiker gear.
Coosawattee River: Plan an excursion to tube down the Cossawattee River, fish, or wade in the cool waters of this scenic river. A nearby resort also offers picnic areas, tennis courts and walking trails along the river.
Carters Lake: One of the deepest reservoir lakes in the North Georgia Mountains, at a depth of 450 ft., surface area of 3,200 acres, and 62 miles of shoreline. The sparkling waters offer a variety of outdoor recreational opportunities including camping, hiking, bird watching, boating, mountain biking, fishing, hunting and picnicking. Although fishing is popular; visitors can access the lake by canoe, kayak, powerboat or sailing. Several campgrounds with many amenities are located around Carters Lake including Doll Mountain, Woodring Branch, and Harris Branch Beach.
Fort Mountain State Park: Enjoy a scenic drive on Highway 52 near the Cohutta Wilderness to 2,850 ft above sea level, at Fort Mountain. Hikers, mountain bikers and horseback riders will find beautiful trails, streams encircling a lake. Scenic views, a stone fire towe and an ancient rock wall which stand on the highest point of the mountain. The mysterious 855-foot-long wall is thought to have been built by early Indians as fortification against more hostile Indians or for ancient ceremonies. Go to GaStateParks.org for more information.