Holiday Cheer is here as Helen Georgia lights up for another season!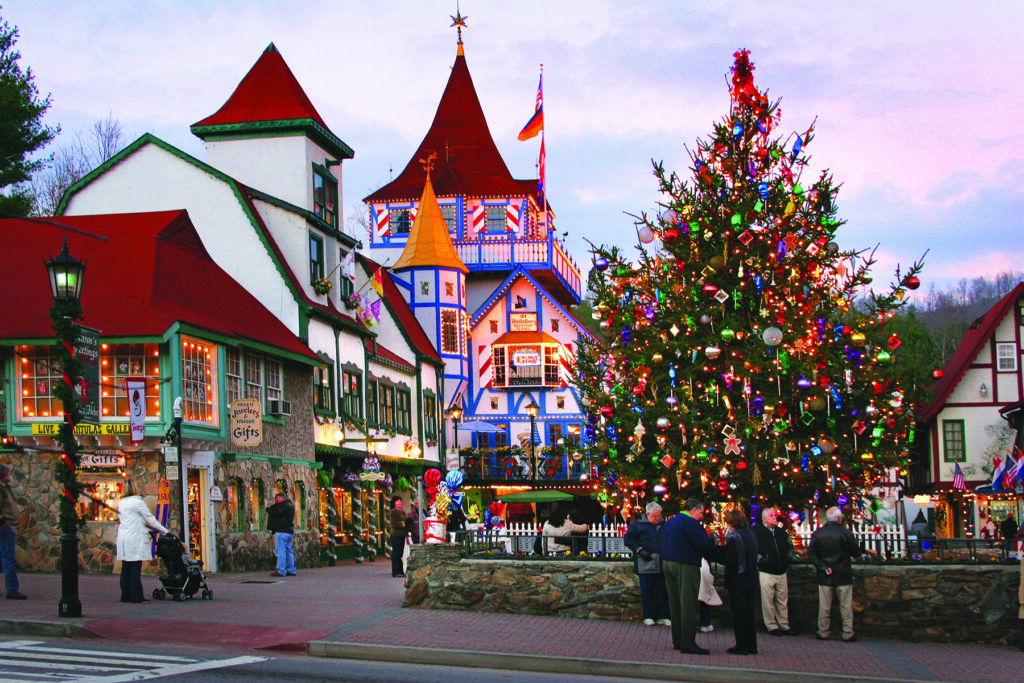 Immerse yourself into this picture perfect Bavarian scenic village with that old world feel of gingerbread trim, cobblestone alleyways, and old-world towers. As the majestic mountains of North Georgia surround you and the beautiful Chattahoochee River runs through downtown, it will make you feel as you"™ve stepped into another world.
Famous for many years, Helen has been known for it"™s festive celebration throughout the city that include lighted trimmed rooftops, bridges, windows and much more. Beautifully decorated outdoor trees are on every block with giant nutcrackers and other lighted holiday visuals.
Visitors love the many different varieties of warm winter food from the Wurst to the Schnitzel as German and International food is everywhere. Stroll down these brick lined streets and smell the wonderful aroma in the air from Bakeries, Pretzels, Gingerbread, Hot Chocolate, and Fudge shops.
Many of these quaint shops feature specialty items like Swiss cuckoo clocks, cheese, steins, wooden toys, handblown glass sculptures, antiques, pottery and handmade arts and crafts.
Wether you want to have a Beer at a pub or local Brewery, most have wonderful restaurants with a variety of dishes from German, Mexican, Italian, Asian food, to traditional American sandwiches, steaks and seafood. Many also offer entertainment and have outdoor courtyards. With over half a dozen wineries surrounding Helen, you can also enjoy spectacular mountain views while appreciating the taste of these award winning grapes grown in the rich clay soil.
Scenic attractions are located all around Helen that offer hiking trails, beautiful overlooks, and winding wilderness roads at every turn. Surrounding White County are some of the highest mountain peaks with Tray Mountain that is not only the 6th-highest mountain in Georgia, but connects with the Appalachian Trail. Amazing Yonah Mountain stands tall at 3,143 ft., located between Helen and Cleveland and is rimmed by sheer picturesque cliffs.
Just south of Helen is beautiful Sautee Nacochee Village. Step back in time with many historical landmarks such as the Old Sautee Store built in 1872 that has a museum of authentic store goods. Just minutes down the road is Stovall Mill Covered Bridge built in 1895, a one lane wood bridge that lays over Chickamauga Creek near State Route 255.
The picturesque Sautee"" Nacoochee Mound at Hardman Farm is a favorite landmark in north Georgia. Guided house tours of this original 1870 Italianate architecture home are part of Georgia State Park with a one mile Heritage Trail along the river to Helen. Nearby Nora Mill Granary & Grist Mill was established in 1876 and still in operation with a live miller making grits, cornmeal and flour mixes beside the beautiful waterfall along the Chattahoochee River.
North of Helen is Unicoi State Park that offers miles of streams and trails for unlimited fishing, hiking and biking opportunities. This gem of Georgia is tucked away on State Highway 356 and features 1,050-acres of wilderness. The centerpiece of the park boasts the 53-acre Unicoi Lake on Smith Creek and Anna Ruby Falls. Visitors enjoy the easy walk up to view these 150-foot twin waterfalls from Curtis and York Creek that merge to form Smith Creek.
Helen has many comfortable accommodations from Bavarian themed lodging besides the river to modern hotels, B& B"™s, campgrounds, and cabins. So lay back, relax and come enjoy a romantic getaway or a family weekend to visit Helen for an "Exceptional Festive Retreat".