… You'll be Captivated By it's Charms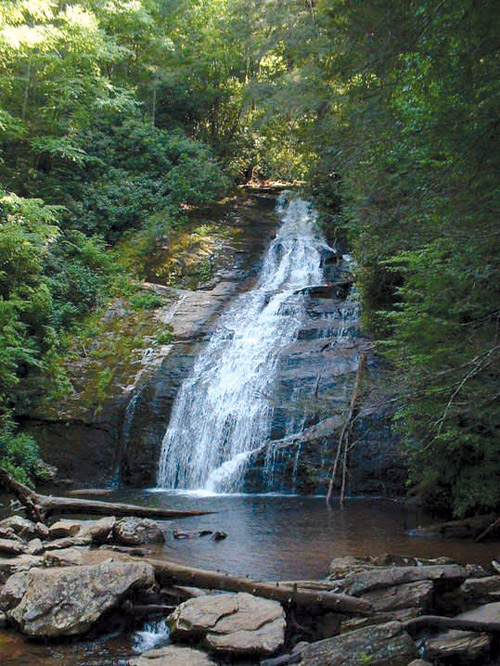 Blairsville Georgia has the energy of con-temporary life combined with traditions of the history of the Appalachian Mountains. Every year people travel to visit this quaint little town and are captivated by it's charming downtown city and friendly hometown hospitality.
Visitors are immediately drawn to the Courthouse, located in the center of a traffic circle built in 1899. Although the original clock tower has been removed it is still visible on display with a Museum open to the public. The Union County Historical Society has nightly bell music from the tower and Friday Night Concerts of local bands and Gospel singings May – October.
Blairsville was incorporated in 1835 & named for Frank (Francis Preston) "Blair", who was a Washington, D.C. newspaper editor. History abounds in downtown Blairsville at the Mountain Life Museum, which replicates life in the early days. The Mock House circa 1906 and Payne Cabin. Other historical sites include The Reece Farm & Heritage Center, homestead of the famous poet Byron Herbert Reece. Continuing South on Hwy. 129 is the Walasi Yi Center; located at the top of Blood Mountain where the 2,175-mile-long Appalachian Trail passes through.
Visitors will relish the ever-changing panorama of this breathtaking scenery of the many opportunities of Recreational activities including golf, hiking, mountain biking and horseback riding, as well as fishing and watersports. Lake Nottely Reservoir, a 4,180-acre lake has a dam reservoir that features a beach, camping area and is a popular place forviewing wildlife. Many Watersports outlets provide fishing supplies seasonal boating & jet ski rentals to help you enjoy this beautiful scenic mountain paradise.
The Chattahoochee National Forest in Union County covers more than 98,000 acres. Adventurers can explore eight wonderful waterfalls, including Vogel State Park just south of town, as well as petroglyphs left by ancient natives in the soapstone at Trackrock Archeological Area, just east of Blairsville. Brasstown Bald offers a 360 degree view of breath-taking sights at 4,784 ft. with an Observation Deck and Visitors Center open May– November.
The Downtown area has many events including the Spring Arts, Crafts, & Music Festival held Memorial Day weekend. The heart of the town has cruise-in on the square, parades, concerts, great shopping, and restuarants. Other annual events include The Blairsville Scottish Festival and Highland Games held each June with Bagpip Bands, dancing, Scottish food, children's games, Historical Re-enactors and atheletes. The Butternut Creek Festival held in July with local and regional handmade Arts & Crafts. The Sorghum Festival in October that showcases Sorghum Syrup making, great food and live entertainment.
Year round events and beautiful scenery invite people to lodge in cabins, retreats, and campgrounds located throughout Blairsville for family vacations, weddings, and weekend getaways. Local wineries and distilleries offer tastings for agri-tourism and often have entertainment on weekends.
Where ever you travel in Blairsville, you will want to come back to the "Charms" that this town has to offer!
For more information visit
www.VisitDowntownBlairsville
or www.VisitBlairsville.com