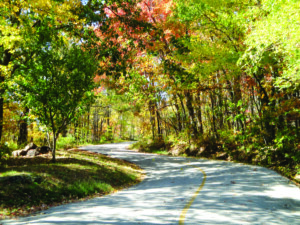 Black Rock Mountain State Park is named after its sheer cliffs of dark-colored biotite gneiss. The dark granite wall of the mountain, which is visible and easily identifiable from long distances, makes it a notable feature of the park. It straddles the Eastern Continental Divide at an elevation of 3,640 feet and includes four other peaks over 3,000 feet in elevation, making it the highest state park in Georgia.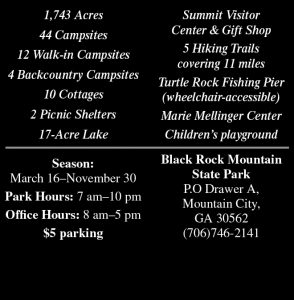 Within Black Rock Mountain State Park, there are four scenic overlooks. The Cowee Overlook sits almost directly above the Ada-Hi Falls, park here and a short 0.2 mile walk will take you to the 35′ high falls. The Nantahala Overlook is in the Tent and RV parking circle. The Blue Ridge Overlook is on the road to the Visitor Center and the Black Rock Overlook is adjacent to the Visitors Center. These overlooks offer 80 mile vistas of the southern Appalachian Mountains as well as Georgia, North Carolina, South Carolina, and Tennessee. Plentiful flora and fauna and impressive views make it one of the best state parks for the outdoors enthusiast in the state.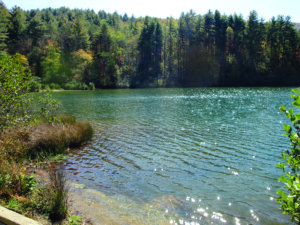 Four hiking trails lead visitors past wildflowers, streams, small waterfalls and lush forests. The shortest hike is Ada-Hi Falls Nature Trail at only 2/10 of a mile. It takes visitors to the beautiful Ada-Hi Falls. The Black Rock Lake trail is an easy half mile loop around the lake and is mostly used by fishermen to access the water. The Tennessee Rock Trail is a bit longer than the previous trails, but it is still only 2.2 miles. This trail explores the northwest slope of Black Rock Mountain. A moderate climb ascends to the ridge, crosses the mountain's highpoint on the Eastern Continental Divide and reaches Tennessee Rock with excellent valley views. The longest trail in Black Rock Mountain State park is the 6.7 mile James E. Edmonds Backcountry Loop Trail that winds over Scruggs Knob and Lookoff Mountain.