If you're looking for remote beauty in the National Forest; just over the North Georgia border, you will find Fires Creek Recreation Area, nestled in the quiet wilderness of Clay County, N.C. Sheltered in abundant flora and fauna are dozens of springs that unite to create Fires Creek and Leatherwood Falls that flow into the Hiwassee River.
Fires Creek Rim Trail is 23.4-mile hiking and horseback riding trail within Nantahala National Forest that travels around the rim of Fires Creek Wildlife Management Area and is an ideal location for picnicking, swimming, horseback riding, and trout fishing. It offers several side trails and access roads and is generally entered from the Fire's Creek Picnic Area along the trail to a 0.7-mile loop, that goes to Leatherwood Falls.
Upon reaching Leatherwood Falls, Fire's Creek Rim Trail travels right as it climbs to the ridge. The trail offers vistas as it crosses several high elevation balds and tight passages through hardwoods, pines, hemlock, ferns, mountain laurel, and rhododendron. The Leatherwood Loop trail is a 3.5-mile moderate hike that takes approx. 3 hours and begins at Fires Creek Picnic Area and follows Leatherwood Branch up to the ridge top. At this point, the trail connects with the original Rim Trail and loops back into Fires Creek Picnic Area.
Carver Gap has an elevation of almost 3,000 ft. and is a 3.5-mile moderate hike that takes approx. 2 hours with good views of Lake Chatuge. Dispersed camping sites, more difficult trails, and access to primitive camping areas are located at Bristol Campground, Huskins Branch, Chunky Gal, and Bald Springs.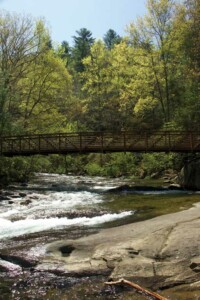 Fires Creek is a designated bear sanctuary and visitors should be cautious for black bears, wild boars, mountain goats, as well as copperhead and timber rattlers. Many visitors typically see small game such as squirrels, wild turkey, white-tailed deer, warblers, and ruffed grouse.
A two-plus-mile section of Fires Creek is designated by N.C. State as Delayed Harvest Stream and is restocked of wild Rainbow, Brown, and Brook Trout. These streams are designated as catch and release, single hook, artificial lures, from October 1st till the first Saturday of June. From the first Saturday in June till October 1st, Delayed Harvest Streams follow hatchery-supported regulations and waters are open year-round.
30 minutes from downtown Murphy and roughly 20 minutes from downtown Hayesville. Fires Creek is part of the Nantahala National Forest, Tusquitee Ranger District, and is managed by the U.S. Department of Agriculture, Forest Service.
Located just 30 minutes from Murphy & 20 minutes from Hayesville off US 64.
Directions: From US 64 turn at Fires Creek Rd. onto NC 1302. (Citgo service station) After about 4 miles, make another left (also marked) onto NC 1344. It's about 1 mile to Hunters Camp and another .7 mile to the Leatherwood Falls parking area.