It's often said that once you've discovered paradise that you never want to leave. That can certainly be said for the residents living around beautiful Lake Chatuge that is located between the towns of Hiawassee & Young Harris GA plus neighboring Hayesville, NC.
Hiawassee, Georgia is seated in Towns County and was formed in 1856 from parts of nearby Rabun & Union Counties. It was named for George Washington Towns, who was the governor of Georgia from 1847 to 1851.
Hiawassee is a Cherokee word meaning "meadow" and the Chattahochee National Forest covers over 57,000 acres surrounding the lake that is owned by the Tennessee valley Authority (TVA,) which built Lake Chatuge in 1941.
The nearby community that founded Young Harris College, was established in 1886 as the McTyeire Institute and was first named after Methodist Bishop Holland McTyeire.
Later the college was placed in the hands of  Judge Young L.G. Harris whom the town of Young Harris is now named after.
Lake Chatuge is a 7,500-acre man-made reservoir that was created in 1942, by TVA which cost over nine million dollars after construction was completed on Chatuge Dam. It is one of 29 TVA hydroelectric dams throughout the Tennessee River system used to provide hydroelectric power. The unsurpassed beauty of the lake created by Chatuge Dam inspired people to name it the "Enchanted Valley.
The entire region surrounding Lake Chatuge is famous for year round trout fishing in numerous streams and rivers. Another great way to have fun exploring Lake Chatuge is to enjoy a leisurely cruise on a pontoon boat or rent a jet ski, canoe, or kayak from one of the marina's like Young Harris Watersports.
Many visitors have known Hiawassee to be the home of the Georgia Mountain Fairgrounds that host numerous events throughout the year with Live Concerts, Shows at Anderson Music Hall, Pioneer Village & Local Craft Events. The nearby Hamilton Rhododendron Gardens are also open year round with more than 3,000 plants in bloom.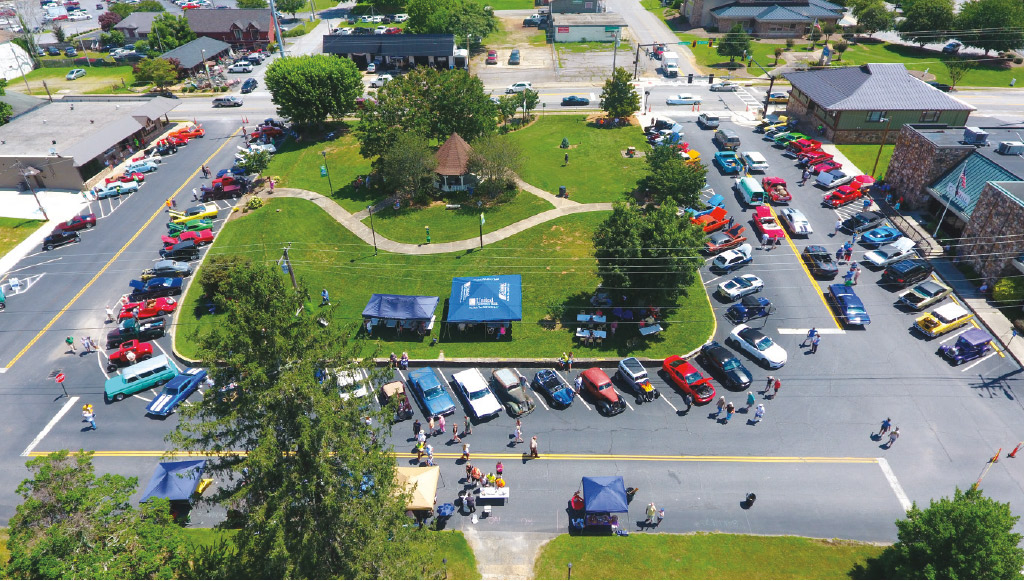 Towns County offers public parks, picnic areas and beaches for outdoor enjoyment including Bell Mountain Park that offers 360 degree views of Hiawassee & Lake Chatuge with an observation platform. Although Georgia's highest mountian is Brasstown Bald at 4,784 ft., it has views of 4 states on a clear day. The Visitors center, with museum is Located on Hwy. 180. and has a paved trail to the top or shuttle available.
For hikers the famous Appalachian Trail crosses Unicoi Mountain at Hwy. 17 /76 west of town. This trail draws hikers nationwide to see nature at it's finest. Many accommodations can guide visitors to spend time at one of the many golf courses, horseback riding stables, white water rafting adventures and surrounding hiking, biking trails & waterfalls in our surrounding National Forest Land.
The North Georgia mountains have the perfect climate, soil, and coolness to have heavy agriculture & to grow grapes the right way. Weekend events and entertainment are held at local wineries. U-pick events and fresh produce are also sold at local farms and markets throughout the area.
Star Gazers will appreciate Rollins Planetarium which is located in the Maxwell Center building at Young Harris College and during season public shows are offered in this 100 seat planetarium under a 40-foot-diameter dome. The college also has an observatory, located on Georgia state property near the Brasstown Valley Resort, only a short distance from campus.
During the summer the city of Hiawassee holds events on the Square including First Friday Markets with live music, food, & games held the first weekend of the month May – October. Saturdays also offer Music on the Square for visitors to bring a lawn chair and listen to a variety of country, bluegrass, and easy listening for your enjoyment Memorial Day – Labor Day Weekend
The city of Hiawassee has many intriguing stores that display the work of many well-known painters, potters and sculptors along with a colorful array of Appalachian folk art. Antique stores are popular for shoppers plus unique clothing, gifts, and local products including home decor. Restaurants surrounding our area feature everything from fine cuisine to country cooking, deli treats, and bakery sweets.
You'll feel relaxed with the wide variety of accommodations. Stay overlooking a mountain or lake view in our many hotels, resorts, cabins, cottages, B & B's, or campgrounds .
No matter where you stay, you will feel welcomed by a friendly community who enjoys sharing all the best places for you to stay, dine, shop, and enjoy all the beauty this area has to offer.
"Come and stay where Georgia meets the Mountains"
For more information on Hiawassee & Young Harris
visit: GoLakeChatuge.com