Long before the area was established, this was the center of Cherokee Indian culture with villages scattered throughout Nacoochee and what is now known as Helen valleys. The Unicoi Turnpike, which is now is Hwy. 17 / 75 and Gold Rush in 1828 brought thousands of miners to Dukes Creek, England Gold Mine and Hamby Mountain in Helen. Then timber industry and railroad brought jobs to the area from Gainesville and in 1913 the Valley was named "Helen, after the daughter of the railroad surveyor.
Settlers again left for opportunities in other places by the 1960's and there was nothing left except a dreary row of concrete block structures.  In January 1969, three Helen businessmen were wondering if there wasn't some way to spruce up the main street in order to encourage tourists to stop. Local artist John Kollock, whose family had deep roots in the area, drew up sketches that were inspired by his time in the service in Germany and visits to small Bavarian towns. With town approval, local carpenters began turning ideas into reality and the improvements began.
The story of Helen's reinvention is one of local entrepreneurship and civic cooperation that has changed a dying lumber town into Georgia's third most visited city. Conveniently located just 15 miles off Highway 365/I-985 and located an hour and a half north of Atlanta via I-85 or GA Hwy. 400. Helen has many accommodations to stay, restaurants, family activities, and a variety of unique shops. Visitors are welcome to experience the beautiful scenery of the mountains, rivers, and waterfalls, weather you're on a romantic getaway, family vacation or a weekend trip.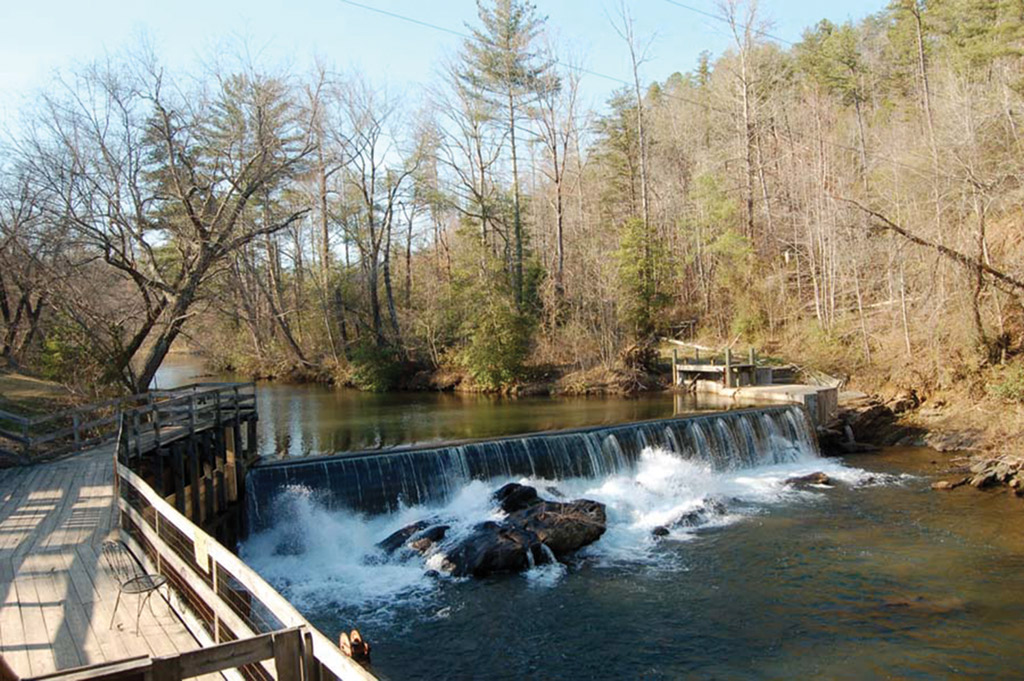 FESTHALLE Year Round Festivals held to celebrate seasonal events. Longest Oktoberfest in the South with authentic German music, dancing, costumes, food, & Beergarten! Trout Tournament in March, Springbierfest in April, Bavarianfest in May and Bingo March – September.
CHATTAHOOCHEE RIVER Headwaters of this historic 430 mile river that brings water to Georgia, Alabama, & Florida. Tubing, kayaking, and fishing is popular for visitors that come to Helen. Picnic by the river in City Park, walking trails along the river, or enjoy the views from many restaurants and lodging facilities.
UNICOI STATE PARK & LODGE Facilities in the park include a Conference Center and Lodge, which can accommodate up to 200 people; cottages & campsites are also available. Enjoy the mountain views, large stone fireplace, and dine at the Unicoi Restaurant for fresh mountain trout. Many activities include concerts, art & craft shows, Festival of Trees, plus other events.
ANNA RUBY FALLS & SMITH LAKE This short hike leads to water cascading over the drop offs is created by two creeks. The Curtis Creek falls drop 153 feet and the York Creek falls are much shorter but still spectacular 50 feet. Enjoy Hiking, Mountain Biking, Fishing, Swimming, Boating, Picnic, & Bird watching. Hikers can also walk the 4.6 mile Smith Creek Trail.
NORA MILL GRANARY & GRIST MILL Established in 1870, this Historic Mill overlooks the Chattahoochee River and produces corn and wheat based products such as grits, cornmeal, pancake mixes, flours, biscuit & bread mixes.
THE HARDMAN FARM Built in 1876 this Historic Farm is directly located across from the Nacoochee Indian Mound. House & Farm tours with History about the region and Hardman Heritage Trail walk along the Chattahoochee River to downtown Helen.
From Atlanta, GA 88 mi
From Chattanooga, TN 133 mi
From Asheville, NC 121 mi
From Greenville, SC 98 mi