The Hardman Heritage Trail is a paved one mile path that travels along the Chattahoochee River from Hardman Farm State Historic Site to Alpine Helen. Interpretive panels along the way share about the beautiful native plants, animals and historical influences that have shaped the forming of this area.
From the southern entrance at Hardman Farm to the northern entrance at Edelweiss Strasse and Kollock Strasse near the Helen Water Park. Free Parking is located at both ends of the trail is open from dawn to dusk. The trail is access-ible for wheelchairs and strollers and is open to dogs and bikes. Please practice "Leave no Trace" by packing out litter and picking up after pets.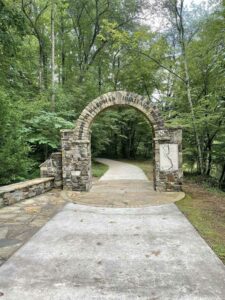 If starting from the historic farm, the 173-acre Hardman Farm is located in historic Sautee Nacoochee, just south of Helen, Georgia. It is best recognized by a gazebo-topped Indian mound and cow pasture. The house, built in 1870 by Captain James Nichols and has Italianate architecture.
Nora Mill can be seen across the river from a viewing area. The mill was established in 1876 by John Martin, a gold miner who stayed in the area permanently after the gold ran out. In 1902, Dr. Lamatine Hardman, who would later become the governor of Georgia (1927-1931), purchased the mill. Today, the mill continues to work, still using the 1500-pound French Burr Stones to grind corn & wheat. A small dam with a waterfall can be seen on the Chattahoochee River just behind the mill.
Beside the historical marker on the trail is the original whistle used by the lumber company to end each work period. The whistle was last used in 1931 when the sawmill was closed permanently. Some of the original tracks from the Gainesville & Northwestern Railroad can be seen embedded into the concrete pathway. The old depot is now the site of the visitor's center at Hardman Farm State Historic Site.
Finally, at the northern entrance, right after crossing the river over the pedestrian bridge, take the gravel path to the left. The remnants of the mining operation of the Plattsburgh Mining Company of New York can be seen. Plattsburgh bought a section of land in 1895 and began mining for gold in 1896. Much of the Nacoochee Valley was rich with gold into the early 1900s.
The Helen to Hardman Heritage Trail is one of the nicest walking/hiking trails and the State of Georgia is proud to preserve for visitors to enjoy for years to come. Just wear your walking shoes, breathe in the crisp clean air and follow this relaxing path beside the Chattahoochee River.
Free parking is available at each entrance.
For More information see: www. gastateparks.org/HardmanFarmTrails