Just to the north of Georgia the beautiful Blue Ridge Mountains continue across the border to North Carolina where the views seem to never end. Our neighbors to the north are just a short drive to visit the quaint towns of Hayesville, Murphy, Andrews, Robbinsville & Franklin in North Carolina.
If you enjoy beautiful overlook views and pristine rivers that flow beside the winding roads, then this road trip is your FREE ticket for a wonderful day trip of exploring. The Chattahoochee & Nantahala National Forest stretches from northern Georgia to the Smoky's and has vast areas of Ranger districts.
To see some of the best views, just pack a picnic lunch and fill up the tank to ride around some of these incredible Mountain Overlooks and picturesque winding highways to view flowing rivers in the National Forests of North Carolina.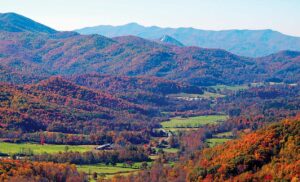 Hayesville, N.C.
Located just north of Hiawassee, GA this charming small community shares Lake Chatuge and has many recreational areas like Jack Rabbit & Fires Creek. The old courthouse & downtown square offers shopping and dining plus host visitors to many weekend activities and Festivals.
Shooting Creek Scenic Overlook
Hwy. 64 East from Hayesville towards Franklin, N.C.
Perfect overlook area with tons of space to park and take in the scenery.
Murphy, N.C.
Blending historic preservation with friendly home-town atmosphere helps this town continue to be a popular destination for tourists. Historical courthouse, museum, churches, and theater mix with wonderful restaurants plus shopping. Stay & play at Harrah's Cherokee Valley River Casino or enjoy numerous hiking, lake and nearby recreational activities.
Murphy River Walk
Located in downtown Murphy off Valley River Avenue the 3 mile walk beside the river starts or ends behind the Hackney Warehouse / Downtown Train Depot and Koneheta Park. A beautiful walk provides a mixture of shade and sun as it passes the trees along the river. Enjoy the park with playground for seating and picnic tables.
Franklin, N.C.
You must see the "Gem Capital of the World" as mining is at the top of this geo-graphical "Rich" town. Enjoy walking in downtown Franklin that is filled with shopping, galleries, antiques + more.
Home to the Scottish Festival, airing of the Quilts and numerous entertainment events located at the Smoky Mountain Center for Performing Arts, you'll love staying to be a part of the show.
Sky Valley & Blue Valley Overlook
Hwy. 441 North of Dillard, GA take 246 for the overlook at top of Mtn. on right. Same road turns into 106 as it continues in NC to pass Scaly Mtn. & pass Highlands to Osage, then Blue Valley Overlook. Just view the skyline for a breathtaking view of Georgia or further for North Carolina.
Andrews, Nantahala, & Robbinsville N.C.
Highlights of this region are separated but joined by nearby National Forest Land. Andrews shares Nantahala which is home to this small unincorporated area that has wildlife abound. Nantahala Lake is gorgeous and there are numerous recreational opportunities including boating and fishing.
Robbinsville shares the Joyce Kilmer Memorial Forest that is in the Nantahala & Cheoah Ranger District and has remained untouched by logging since 1936. Lake Santeetlah located just north of Robbinsville is a separate lake where visitors enjoy fishing and boating.
Nantahala River
From Murphy go East on Hwy. 74 to travel past Andrews where the 4-lane Hwy. narrows to a 2-lane and winds through the Nantahala Mtns. & NFS. Enjoy the beautiful Nantahala River that winds along side this 10 mile stretch with roads that lead to waterfalls and whitewater rafting.