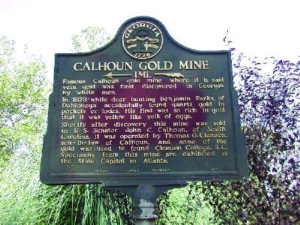 The Calhoun Mine is perhaps the oldest and best known mine in Lumpkin County, Georgia. When gold was discovered in Lumpkin County in 1828, which lead to the Georgia Gold Rush in 1829, it was discovered on 239 acres owned by Robert Obar.  The land was purchased by Senator John C. Calhoun of South Carolina, who was also the 7th Vice President of the United States.
Calhoun started a mining company to mine the land and later allowed his son-in-law Thomas Green Clemson, the founder of Clemson University, to manage it. The ore deposit was a very rich deposit and, according to an 1856 letter from Clemson to his brother-in-law, was still producing significant quantities of gold nearly 30 years after its initial discovery on the land.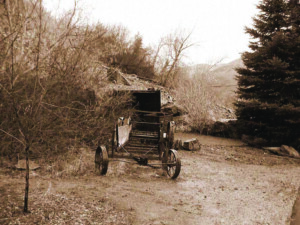 In 1879, the Calhoun Mine passed from the Calhoun family. In 1939, after the deposits at the Calhoun Mine were long thought to be depleted, a small pocket was discovered and mined.  The Calhoun Mine was named as a  National Historic Landmark in 1973.
Calhoun Mine is located off GA highway 60 and is on private property.   You can see many artifacts and photos in The Dahlonega Gold Museum  located on the square in Dahlonega, which is the Historic Lumpkin County Courthouse built in 1836.    The museum has an interesting film that tells the story of the gold rush and mining that occurred.