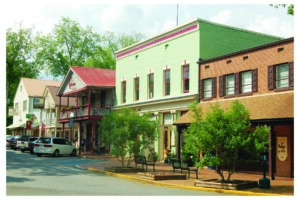 Dahlonega, Georgia is a charming town rich with history, art and adventure. Originally Dahlonega was known for the Cherokee word meaning "yellow money" and was the site of the first major U.S. Gold rush in 1828, 21 years before California's rush and is home today to the artifact-rich Dahlonega Gold Museum.  Experience the rush of panning for gold at the ruins at Crisson Gold Mine and learn gold mining history of the newly- restored Chestatee River Diving Bell, a giant 6-ton, submarine-style, maritime artifact.
But don't forget, there is more to this town than it's "golden history". Dahlonega has the greatest concentration of wineries in all of Georgia. Its fertile, mineral-rich soil produces amazingly versatile lines of European, French hybrids, and American wine grapes used in the making of many award-winning wines. Dahlonega's restaurants range from cozy bistros to friendly cafés to metropolitan-chic delights. The downtown square also offers plenty of shopping, country inns, and has wonderful events year-round that include exhibitions, concerts in the park, crafts, galleries and local wine tasting rooms.
Festivals are an integral part of Dahlonega's heritage and are perfect ways to take in the beauty of the outdoors.  Outside of the downtown area in the Fall are the Annual Hemlock Festival and in the Spring the Dahlonega Trail Fest.  During the holiday's, an Old Fashioned Christmas Celebration is held in December with lighting of luminaries, festivities, carolers, and Santa on the Square.
Surrounding the area are a host of outdoor activities including Amicola State Park which is located just outside of Dahlonega on GA Hwy 52.   The park was named "Amicalola" which means 'tumbling waters' by the Cherokee Indians for its spectacular waterfall, that is the highest waterfall in the Eastern U.S. at an awe-inspiring 729 feet.  Dahlonega is home to the beginning of the Appalachian Trail, a 2,100 plus mile hiking trail that extends up the eastern United States from Georgia to Maine.  The  famous trail starts on Springer Mountain which is located  just a few miles from the in Amicalola State Park & Lodge.   The resort offers a variety of activities including hiking, camping, picnic, trout fishing, geocaching, conference center, lodging, and restaurant facility.
Nearby activities also include the Chestatee Wildlife Preserve & Zoo that features white Siberian tigers and other wild exotic animals.  Weather you like to fish, kayak, canoe, swim, or tubing, the area has many places on the Chestatee River for outdoor adventures.  Horseback riding is also a popular activity with many visitors with several locations to ride within the Chattahoochee National Forest area.  Golfing just outside the Dahlonega area provides a relaxing day with spectacular views of the mountains and river.
Just east of Dahlonega is the beautiful countryside of scenic Hwy. 115  that provides picturesque mountain views among this rich agricultural landscape. Many people enjoy exploring the farms and shopping like the Tomato House that features a wide variety of gifts and fresh local produce.  Unique Antique shops like Bessie Mae's housed in a 1892 mercantile building help visitors step back in time.
So weather you take a leisure drive through the countryside, visiting wineries, exploring the great outdoors, or having a festive time in town, Dahlonega is sure to make you feel "Rich" in discovering this area.
Stop in or call the Dahlonega Visitor's Bureau at 13 Park Street – 1-800-231-5543 or go to www.dahlonega.org for more information.