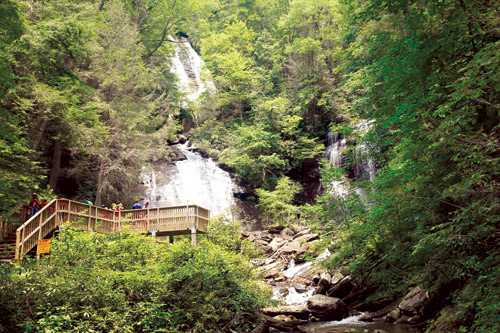 Long before the area was established, this was the center of Cherokee Indian culture with villages scattered throughout Nacoochee and what is now known as Helen valleys.  As structures were built in 1813, the Cherokees approved construction of the Unicoi Turnpike, which is now is Hwy. 17 / 75 towards Hiawassee.  Then as Cherokee's left the area on the Trail of Tears, white settlers populated the area.
The Great Georgia Gold Rush which started in Dahlonega, brought thousands of miners to Dukes Creek in Nacoochee Valley in 1828, the historic England Gold Mine and Hamby Mountain in Helen.  Then timber officials came next to the Valley and built a great sawmill, Matthews Lumber Company. Simultaneously, the Gainesville and Northwestern Railroad came up the Chattahoochee River to Helen.
Officially in 1913 the Valley was named "Helen", after the daughter of the railroad surveyor. The lumber company, located in the center of Helen on the Chattahoochee River, continued sawmill operations until 1931. Settlers again left for opportunities in other places and by the 1960's, there was nothing left except a dreary row of concrete block structures.
In January 1969, three Helen businessmen were wondering if there wasn't some way to encourage tourists to spruce up the main street and encourage tourists to stop.  One suggested he would speak with local artist John Kollock, whose family had deep roots in the area.  John drew up sketches that were inspired by his time in the service in Germany and visits to small Bavarian towns.  With town approval, local carpenters began turning ideas into reality and many of the old buildings had new facades.
Over the last 40 years the town has grown dramatically adding a Festhalle that has many events, new downtown stores and cobblestone alleyways. Faces of buildings were painted with scenes of Bavaria and North Georgia, mirroring the migration of early settlers.
The story of Helen's reinvention is one of local entrepreneurship and civic cooperation that has changed a dying lumber town into Georgia's third most visited city. Conveniently located just 15 miles off Highway 365/I-985 and located an hour and a half north of Atlanta via I-85 or GA Hwy. 400.
Festivals and special events include a hot air balloon race, Winefest, Volksmarch, Oktoberfest and Christmas parades, Fourth of July fireworks, and Bavarian Nights of Summer. From mid-September through October, Helen hosts the longest Oktoberfest in the South. Alpenfest offers entertainment during the Holiday season from Thanksgiving through December.
The area is also known for its pristine beauty, exemplified by attractions such as Anna Ruby Falls, a 150-foot waterfall located in the Chattahoochee National Forest, and the headwaters of the Chattahoochee River.  Unicoi State Park also provides miles of streams and trails for unlimited fishing, hiking and biking opportunities.  Many Historical landmarks such as Nora Mill Grist Mill established in 1876, The Hardman Farm, Stovall Mill Covered Bridge, and picturesque Sautee– Nacoochee Mound are located nearby.
Helen has many camping facilities, hotels, B&B's, cabins, restaurants, recreation, family activities, museums, history, art, fishing, tubing, golf, and a variety of unique shops. Visitors are welcome to experience the beautiful scenery of the mountains, rivers, and waterfalls, weather you're on a romantic getaway or a relaxing family weekend, come visit Helen for a "Bavarian Alpine Experience".