Explore Rabun County where Summer-time Living is Easy
If outdoor adventure with small town charm is what your looking for this Summer "" then Rabun County is your destination. Conveniently located just 90 miles from Atlanta this small northern corner of Georgia is bordered by South Carolina and North Carolina.
All roads lead to wilderness and the great outdoors in Rabun County, as approximately, 60% of the land is in National Forest and State Parks. Scenic lakes area a major part of recreational activities and almost 20% is held by by Georgia Power for Lake Burton, Rabun, Seed, and Tallulah. Visitors traveling through the area may miss these waterways as the lakes highlighted are not visible from the major roadway of Hwy. 441 Traveling from north to south, the lakes and dams are: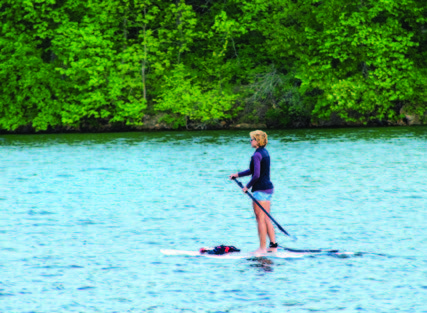 Lake Burton & Burton Dam
The largest lake in the series at 2,775 acres and 62 miles of shoreline. Offering three activity areas: Jones Bridge Park with two sheltered picnic areas, Timpson Cove Beach has white sand beach, picnic area, and restrooms. Murray Cove Boat Launch Area has paved boat ramp for small- and medium-sized boats.
Lake Seed & Nacoochee Dam
240 acres, 13 mile of shoreline, and two activity areas. The Lake Seed Boat Launch Area has gravel boat ramp for small boats and the Lake Seed Campground offers a white sand beach, wilderness campsites, picnic area, and latrines.
Lake Rabun & Mathis Dam
The second largest lake at 834 acres, 25 miles of shoreline, and host to Nacoochee Park. Located on the north end of the lake, Nacoochee Park recreation area is perfect for a picnic, fishing on a river-like setting or just relaxing. Located just off of Lake Rabun Road is Rabun Beach recreation area overlooking beautiful Lake Rabun and mountains. It offers camping, hiking, swimming, boating and fishing. 80 tent and trailer campsites are available, some with electrical and water hookups. Hike the 1.3-mile Rabun Beach Trail which ends at Angel Falls.
Tallulah Lake, Terrora Plant & Tallulah Falls Dam
63 acres, 3.6 mile of shoreline and home to the Terrora Center. The Terrora Park and Education Center offers a camping area that includes 50 campsites with electrical/water hookups, tables and grills, playground, and pavilion. The Center also has a park with white sand beach, lighted tennis courts, nature trails including trail to Tallulah Gorge overlook & State Park. Visitors should stop in the historic town to see The General Store and enjoy the Jane Hurt Yarn Interpretive Center for more information.
Rabun County boasts having "three Georgia State Parks" with Moccasin Creek State Park on Lake Burton, Black Rock Mountain State Park to the North and Tallulah Falls State Park to the South of it's border. The area has numerous hiking trails in both State Parks plus a portion of the Appalachian Trail winds through on the western border and a 37-mile portion of the Bartram Trail. Picturesque waterfalls abound and many can be easily reached by relatively short trails.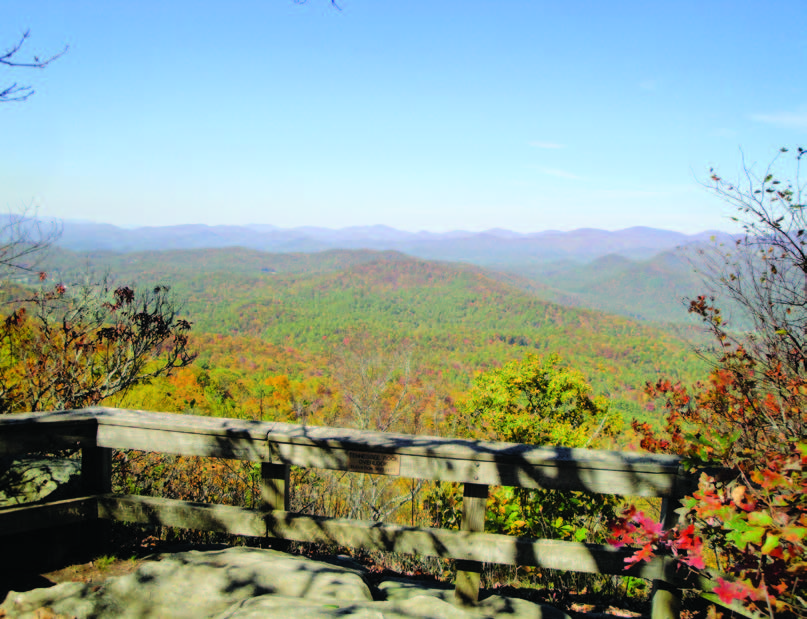 Located in Mountain City off Hwy. 441 Black Rock Mountain takes it's name from the shear dark granite wall that is visible from long distances. Within the State Park there are four scenic overlooks. The Cowee Overlook is the first on the drive in, and actually sits almost directly above the Ada-Hi Falls, but the falls are not visible from the overlook. The Nantahala Overlook is located in the RV parking circle. The Blue Ridge Overlook and Black Rock Overlook is adjacent to the Visitors Center and Trading Post. Visitors enjoying backpacking for day trips, hiking on the trails and fishing on this scenic 17 acre lake.
Near the State Park is home to the famed "Foxfire" Museum & Heritage Center. The project of Foxfire magazine was based on interviewing local people and publishing their stories, which inspired numerous schools across the country to develop similar programs. The museum offers a self-guided tour through the authentic village showing the trades of early settlers.
Driving into the northern area of Hwy. 441 you will see miles of beautiful valley that is famous for it's farmland and family-style meals at the Dillard House Restaurant, serving the community since 1917. The Dillard area has many traditional folk galleries, plus refined rustic antique shops nearby. Located one mile east of Dillard is the Hoojah Branch Indian burial mound, which is listed on the National Register of Historical Places.
To view this quaint valley from above, take a beautiful scenic drive on Highway 246 toward Sky Valley, Ga. to get a real taste of an aerial perspective form several roadside and trail lookouts. The area offers abundant hiking, waterfalls and scenic flora. Georgia's highest city, with an elevation of 3,500 ft. is home to Sky Valley Golf and Country Club, which features an 18 hole championship public golf course, luxury accommodations, swimming and tennis courts.
If your looking for cool waters, the Chattooga River borders Georgia and South Carolina and is recognized as one of the Southeast's premier whitewater area. Over 50 miles of river flows from the Appalachian Mountains to Lake Tugaloo offering class II "" V rapids. Continuing Hwy. 76 into Long Creek S.C. past the river, visitors can tour Chattooga Belle Farms, a 198 acre working farm and distillery.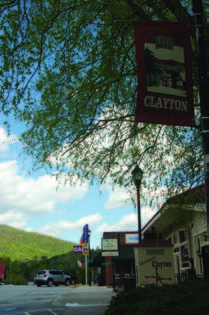 The downtown Clayton area offers that "Hometown Feeling" that every visitor will enjoy. Stroll leisurely through the local shops that feature the best in art, antiques, books, furniture, gifts, wine and so much more! With a variety of cafe's, old-fashioned soda fountain, or fine dining restaurants, many feature our delicious local fresh farm produce. The Community open air market welcomes visitors every Saturday to enjoy live music, crafts and farm fresh tasty treats! You'll find everything for the perfect get away including a wonderful stay to relax and renew whether it's hotels, resorts, or one of our charming bed and breakfast inns.
This peaceful and quiet corner of North Georgia brings friends, families, couples, and outdoor enthusiast every year to enjoy these higher ridges. Picture perfect memories are made for Summer-time in Rabun County as you lay back and enjoy the scenic venues and the cool waters of the mountains.
For more information visit ExploreRabun.com
or visit the new Welcome Center on Hwy. 441
706-782-4812