From Atlanta, GA 116 mi
From Chattanooga, TN 100 mi
From Asheville, NC 120 mi
From Greenville, SC 124 mi
Trackrock Archeological Area – Visit this special site where the people of long ago carved their stories into the boulders of Track Rock. Petroglyph site of ancient Indian origin from which this mountain gap gets its name. Several hiking trails are located in this 52 acre area that is located off Trackrock Gap Rd.
Lake Nottely Reservoir – This beautiful 4,180-acre lake has a dam reservoir that features a beach, camping area, hiking and is a popular place for viewing wildlife. Many water sports outlets provide fishing supplies seasonal boating & jet ski rentals to help you enjoy this beautiful scenic mountain paradise. Take Hwy. 129 North and turn left on Nottely Dam Road.
Meeks Park – Scenic Nottely River runs through the park making for scenic picnic spots. Located directly off Hwy. 515, the park has ball fields, batting cages, a playground, skateboard park, basketball court, tennis courts, swimming pool, disc golf course, walking trails, nature trails, and dog park. Seasonal events are held here regularly and plays host to the Butternut Creek Festival held in July with local and regional handmade Arts & Crafts.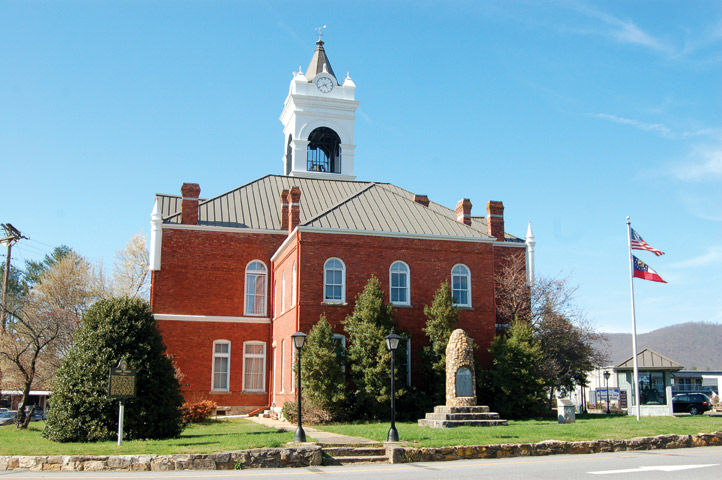 Historic Courthouse & Museum – built in 1899 this beautiful restored building is located in the center of a traffic circle in downtown Blairsville. Although the original clock tower has been removed it is still visible on display with a Museum open to the public.
Downtown Blairsville – Stroll the beautiful brick lined sidewalks to shop, eat, and enjoy this friendly small town! Many of the shops have handcrafted arts, souvenirs and flavors from the mountains that are just waiting for you to discover.
Mountain Life Museum – The Mock House circa 1906 and Payne Cabin replicates life in the early days. Located just off the town square.
The Reece Farm & Heritage Center – is homestead of the famous poet Byron Herbert Reece.
Property is on Nottely River and features restored barns, corn crib, chicken house, smokehouse, spring house and petting farm.  Art exhibits tell the story of Byron Herbert Reece, the farmer, writer, and poet who lived on this site located on Hwy. 129.
Vogel State Park – also on Hwy. 129, is a 233-acre Sate Park located at the base of Blood Mountain in the Chattahoochee National Forest. The park offers Hiking trails, campsites, cabins, picnic facilities, and activities like geocaching. The 22 acre lake is great for fishing or non-motorized boating activities. During the summer, visitors can cool off at the mountain-view beach.
Appalachian Trail & Walasi Yi Center – is located at the top of Blood Mountain on Hwy. 129 where the 2,175-mile-long Appalachian Trail passes through. Listed on the Register of Historic Places, this center offers a hostel and has incredible views from the overlooks.
The Woody Gap School – This unique small school K-12 is located off Hwy. 60 in Suches. The Mountain Heritage Preservation Program also has recreated the early 1800s farmstead, complete with cabin, outbuildings, and gardens.
Lake Winfield Scott – is part of the Chattahoochee National Forest. The 18 acre lake is quiet for camping or hiking and has a swimming and pavilion area. In Suches turn right onto Hwy.180 – go 7 miles and look for signs on the right.
Brasstown Bald – offers a 360 degree view of breath- taking sights at 4,784 ft. with an Observation Deck and Visitors Center open May– November. The museum features interactive cultural and natural history exhibits. Surrounded by the Oconee National Forest, the center serves as a Forest Ranger District area located off Hwy. 180.
For more information visit
www.VisitDowntownBlairsville or
www.VisitBlairsville.com