Nestled in the heart of the Appalachian Mountains, Blairsville, Georgia is a hidden gem that offers a perfect blend of scenic beauty, outdoor adventures, and small-town charm. With its picturesque landscapes, historic sites, and a welcoming community, Blairsville has become a sought-after destination for travelers looking to escape the hustle and bustle of everyday life and immerse themselves in the tranquility of nature. Whether you're a nature enthusiast, a history buff, or simply seeking a peaceful retreat, Blairsville has something to offer for every type of traveler.
One of Blairsville's main draws is its stunning natural landscapes. The town is surrounded by the Chattahoochee National Forest, which boasts an array of hiking trails, waterfalls, and breathtaking viewpoints. The Blood Mountain Wilderness Area, part of the Appalachian Trail, offers challenging hikes that reward hikers with panoramic vistas at the summit. For a more leisurely experience, the Vogel State Park provides serene lakeside picnicking, fishing, and boating opportunities, perfect for a relaxed afternoon with family and friends. See the clear blue waters of Trahlyta Lake as you follow walking trails around it and view Trahlyta Waterfalls.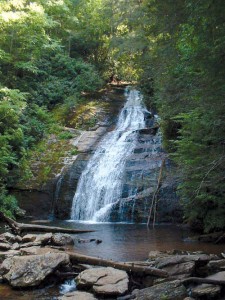 Union County holds an awe-inspiring natural beauty of cascading waterfalls, hiking and biking trails, city parks and nature preserves. Many visitors enjoy the rushing cascades of Helton Creek Falls which has a vertical drop more than 100 feet. The trail accesses lower + upper falls and visitors are advised to use caution on slippery rocks. The trail to the falls are located off Hwy. 129/19 South.
Other Recreational areas include, Lake Winfield Scott located off Hwy. 180. Take a walk on the trail that is just under a mile around the lake where you see wildflowers and beautiful mountain scenery. The Dockery Lake Recreation Area off Hwy. 60 is below Suches in the Woody Gap area offers a 0.6 mile handicapped accessible trail with views and alternative to more difficult hikes. If your looking for remote hiking with numerous trails the Coopers Creek Scenic Wildlife Management area is located between Hwy. 60 & 180.
Meeks Park located off Hwy. 515 has many recreational opportunities and is the home to many of Blairsville's Festivals and Events. The Butternut Creek and Nottely River run through the park making for scenic picnic spots. Families enjoy the trail of Butternut Creek Loop that runs 0.7 miles near water and inclines in the park. In addition to walking trails, there is a playground, tennis courts, batting cages, disc golf, skateboard park and plenty of tables, benches and swings for relaxing under the magnificent shady oaks.
If you enjoy golf Union County offers two courses that includes Butternut Creek Golf that is perched upon a hilltop, by the Union County Community Center offering dining and visitor information. Old Union Golf Course is located off Hwy. 129 N. offers a valley layout, with a distinctive links feel that can be thoroughly enjoyed by beginners to professionals.
The picturesque Nottely River is a favorite among anglers, offering an abundance of trout and bass. The TVA 184 ft. dam stretches 2,300 ft. across the Nottely River and has a flood storage capacity of 100,000 acre-feet. The reservoir features a beach, camping area and is a popular place for viewing wildlife. Lake Nottely is a great spot for water-based activities and provides fishing supplies, plus seasonal boating & jet ski rentals to help you enjoy this beautiful scenic mountain paradise.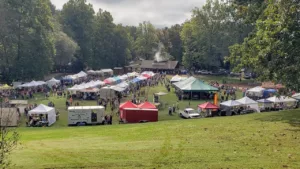 Beyond its natural beauty, Blairsville also has a rich history and culture to explore. The Historic Union County Courthouse, a beautifully preserved 19th-century building located at the town square, serves as a reminder of the area's past.  Visitors enjoy hearing the nightly bell music from the tower and Friday Night Concerts of local bands and Gospel singings May – October. Just south of the roundabout is The Mountain Life Museum that offers visitors a glimpse into Appalachian life in the 1800s through its collection of historic cabins and artifacts.
Farming and Agriculture have deep roots in Union County and another historical site of The Reece Farm & Heritage Center is homestead to the famous poet Byron Herbert Reece and features restored barns, corn crib, chicken house, smokehouse, spring house and petting farm.  Today Agriculture lives on at the Georgia Mountain Research and Education Center and works with communities to help research and classes. Designated tours are periodic but the Eethno-Botanical Gardens can be visited through the office.
Blairsville's community spirit shines through its various festivals and events held throughout the year. Fall is famous for the "Sorghum Festival", a beloved local tradition that celebrates the harvest season with crafts, live music, and of course, the making of traditional sorghum syrup.
No visit to Blairsville is complete without savoring its local flavors and exploring its charming shops. The town offers a diverse culinary scene that showcases Southern comfort food and farm-to-table delights. Visitors can also stroll through boutiques and craft shops to find unique souvenirs, handmade crafts, and locally produced goods.
Blairsville, Georgia, stands as an idyllic retreat where nature's beauty meets small-town charm. Whether you are seeking a weekend getaway or family vacation retreat you'll enjoy the Southern hospitality offered at nearby cabins, B & B's, hotels and camping located throughout Blairsville.
As you explore you'll find yourself captivated by the enchanting allure of Blairsville and want to come back for more!
You're Invited to Explore All that Blairsville has to offer in any Season
at visitdowntownblairsville.com or visitblairsvillega.com
or Visit us at Union County Welcome Center
129 Union Co Rec Rd, Blairsville, GA 30512