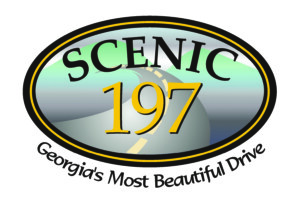 Travel off the beaten path and drive Scenic 197 where you will follow the Soque River through a winding road of beauty.  The 33 miles of road officially begins Old Hwy. 197 S. in Mt. Airy off Hwy. 13 and crosses Hwy. 441 as the major four lane where it has now become the official start/end of State Road 197.   As it meanders North on U.S. 76 Georgia 197 takes you into Clarkesville, seat of Habersham County.
Shorts Mill – On the right shortly after the underpass is the first historic building, Shorts Mill. If you are heading north on Scenic 197 you need to watch back and to the right to see the mill. It is plainly visible heading south. Built on Hazel Creek, Shorts Mill sports an iron millwheel.
Clarkesville  – The historic town (circa 1818), was the first major resort towns with wealthy families escaping the heat of the coast and, at one time, had hotels for the tourist, which have now been replaced with quaint shops. See shows at the Theatre and visit the restaurants and galleries.
Soque River – This winding drive follows the unique tributary of the Chattahoochee River and is over 28 miles long. Use caution as you travel, as at one point on Scenic 197 there will be a dip in the road (clearly marked by a road sign) where the river can  flow over the road, this is humorously known as a "Low Bridge".  Many trout fisherman love this watershed, as the Soque River's cold temperatures are the secret to the large Rainbow, Brook, & Brown trout that inhabit it.
Batesville – has numerous galleries of regional handmade arts and crafts. Mark of the Potter is a scenic and historic grist mill was built in the 1930's and is a must photo stop for the beautiful 25 foot falls from the Soque River that flow beside it.  Potters make their "mark" on the store and feature handcrafted pottery.  Many more local artists and stores are a must stop including: Hickory Flat Pottery, Cottage Garden, Burton Gallery, stained glass, and other handcrafted artwork studios.
The Batesville General Store serves the community as a hub, and Batesville Days Festival is held annually on the fourth Saturday of October to celebrate many of the old mountain arts and traditions. The festivities feature local artisan's wares, historical re-enactments of Pioneer Mountain living, and folk culture. While in town, visit Sunburst Stables, off Hwy. 255, for ziplines, horseback riding, ATV trails, flyboarding and more!
Lake Burton – This 2,775-acre reservoir and is one of the first lakes created to generate hydroelectric energy by Georgia Power.   Lake Burton's name was derived from the former town of  Burton, which now lies below the lake's surface. The town (and the lake) was named after local prominent citizen Jeremiah Burton. Many species of fish,  call this home, including bass, crappie, bluegill, sunfish, catfish, walleye, trout, and perch.
Moccasin Creek State Park  & Lake Burton Fish Hatchery  – Camp at one of Rabun Counties most popular State Parks on the shores of Lake Burton.  The park is relatively flat, offering easy navigation for large RVs, bicycles and wheelchairs and offers a fishing pier that sits above a trout-filled creek.  Lake Burton Fish Hatchery offers tours and  raises trout to stock for cold-water streams of North Georgia.
Hemlock Falls Trail – A two-mile trail begins just south to the entrance of Moccasin Creek State Park.  The trail is relatively easy and follows a stream where many small waterfalls are created by branches.  The trail leads to a wooden bridge that crosses the river where you continue a few feet to see Hemlock Falls.