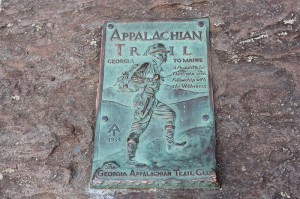 Hikers come from near and far to celebrate the Appalachian Trail Community and to kick off the annual hike of the famous 2,175 mile trail.
Every March the trail officially begins at Springer Mountain but most people start their journey at Amicalola Falls State Park.
The park is an 829 acre Georgia state park located between Ellijay and Dahlonega in Dawsonville, Georgia. It offers many hiking trails, a guest lodge, restaurant, cabins, a shelter for long distance Appalachian Trail hikers, a campground and access to the ecofriendly Len Foote Hike Inn.
From the State Park, an 8.5 mile trail leads to Springer Mountain, which is the southern end of the Appalachian Trail, although there are shuttles that can take people through the forest service roads to the upper part of Springer Mountian.
Visitors can also access The Appalachian Trail along many Highway Routes in North Georgia including:  Hwy. 60 "" Woody Gap,  Hwy. 19 "" at Neels Gap on Blood Mountain for visitors to stop at the Walasi Yi Center.
The trail also crosses Hwy. 348 at the Richard Russell Scenic Hwy., it then goes to Hwy. 75 between Helen & Hiawassee at Unicoi Gap.  On Hwy. 76 between Clayton & Hiawassee at Dicks Creek Gap visitors can also stop before the trail runs farther into North Carolina.
Nearby Attractions in the area:
Amicalola Falls Visitors Center Open Sun. – Wed. 9am – 5pm, Thurs. – Sat. 9am – 7pm Georgia,  Georgia's  tallest cascading waterfall at 729 ft.
Amicalola Falls Lodge – This scenic facility also has a Conference Center with a restaurant.
Long Creek Falls is located further along the Appalachian Trail in the Three Forks Valley area for backpacking, fishing, and camping.
Dahlonega, GA – Quaint historic town with shopping, and dining.  Festivals include Bear on the Square, July 4th Celebrations, Gold Rush Days, and the Hemlock Festival.
Dahlonega Gold Museum "" 1836 Historical Courthouse showcasing area history.
Pan for Gold at Crisson Gold Mine "" to find your riches. Precious gems and a 25 year old Stamp Mill.
Wineries "" Come for wine tastings featuring great food and entertainment at over 5 local wineries just outside of Dahlonega.