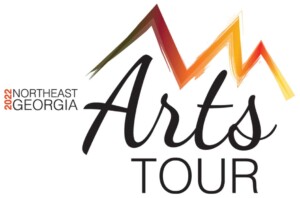 What is more captivating than driving through the mountains of North Georgia and into North Carolina? Combining this beautiful drive through 2 states and 6 counties with the 2022 Northeast Georgia Arts Tour will be the most exciting experience of a lifetime. While following the winding picturesque trail not only will you find the beauty of this area but you will be introduced to some of the most talented crafters in the area! The Arts Tour will bring you to painters, pottery, folk art, jewelry, glass, handcrafted furniture, fiber, wood, photography and so much more that you will feel the weekend is not enough time. Go online to www.ArtsTour.org, to download our map or call your local Chamber of Commerce for more information. The Art Tour will begin June 10th continuing on the 11th and 12th for the Summer Season kickoff. Come celebrate and experience a wide variety of arts & crafts at the Northeast Georgia Arts Tour.
This year the participants are located in Habersham, Rabun, Towns, Union and White Counties in Georgia & Clay Co. in N.C. Each County will showcase anywhere from 2 to 8 incredible galleries or studios that will feature live demonstrating artists the weekend of the tour. Restaurants, lodging establishments and wineries will be prominently featured in our year-round "Where To Go" Arts Guide brochure and on our website.
Grab your friends, jump in your cars and take the tour of Art Galleries & Studios while stopping at our participating restaurants for incredible eats. You can even take the time to stay at some of the lodges listed so you don't have to end the day until you have seen all the art galleries in the most beautiful, tranquil mountains of Georgia and North Carolina!