Have you ever wanted to feel on Top of the World?
Just head to Hiawassee and Bell Mountain Park Historical Site.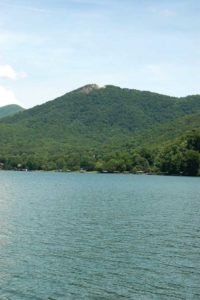 Originally Bell Mountain was very prominent rising 3,424 foot of elevation from the "Enchanted Valley" of Hiawassee. Then in the early 1960's Bell Mountain's land was purchased to mine for its minerals, and the top was left with a wide gap at the knob.
After the mining, Mr. Hal Herrin partner of the Hiawassee Land Company, then later Mountain Realty purchased it in an effort to preserve it from future mining. Bell Mountain primarily became a home for sunset hikes and later on, a place for Jeeps, Hang gliders and other off-road enthusiasts. The mountain also became vandalized at the top with spray paint graffiti from kids and people who took advantage of the remote location that was not monitored.
The Hal Herrin Estate graciously donated the 18 acre Bell Mountain Summit to Towns County. in 2016. Today, it has paved the road, established parking area, and in addition to the Hal Herrin Scenic Overlook erected a 2nd platform that offers 360 degree views of the surrounding lake and mountains.
From Highway 76 "" Turn on Shake Rag Rd. and go slow (Speed limit is five MPH.) Hours are 8 AM – 8 PM, and is Closed during inclement weather.