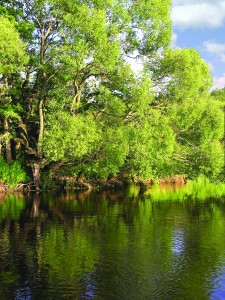 Many people know the Chattahoochee River as one of the most important U.S. Army Corps of Engineers impoundments in the nation.  This river's basin is the smallest in the nation and serves as a source of drinking water for metro Atlanta, and continues along the Georgia "" Alabama border, and into Florida.   This important source not only provides drinking water supply to more than half of all Georgian residents, but also provides hydroelectric power, commercial navigation, flood control, and recreation in three states to over 25 million Americans.
It begins as a spring; "Chattahoochee Gap," just a little more than a trickle of water where Jack's Knob Trail dead-ends into the Appalachian Trail at about 3,600 ft. and lies 200 ft. south.  Several streams flow from Habersham, Lumpkin, Rabun, Towns, Union and White counties to broaden its shoulders.
Origin of the name "Chattahoochee" is believed to be derived from "˜Chatto,' a stone, and "˜hoche,' marked or flowered; there being rocks of that description in the river above Hoithletigua  – an old town that historians place near the present town of Franklin, Ga. in Heard County.  The river, "Chota," was named by the Cherokee Indians at the headwaters and when the river flowed into Creek territory, it became the "Chattahoochee." and was used by the tribes as a border between their Nations, then between themselves and early settlers.
Excavations suggest that Spanish searched for gold in the valley as early as the sixteenth century. The first American gold rush began in 1828 through streambeds of the Chattahoochee headwaters, and the first dam was built to power a grist and lumber mill in 1876. The present Nora Mill still operates a water-powered mill and grinds cornmeal, grits, wheat, rye, and flours.
The Chattahoochee River and Wildlife Management Area are located within the 750,000-acre Chattahoochee National Forest with lush forests.  More than 500 species of birds, mammals, fish, and reptiles live in this protected headwaters portion, as it provides wildlife access to drinking water, sites for nests and dens, and berry-producing shrubs along its banks as a source of food.
Helen is a perfect start, as this river runs through this Alpine Village town of themed German- festivals and businesses.  Then the Chattahoochee picks up flow from creeks such as Smith, Low Gap, Henson, Dukes, and Sautee.  Two beautiful waterfalls that merge into these creeks are the twin falls of Anna Ruby and Horse Trough Falls, just north of Helen. From Helen, the river flows east through Sautee Nacoochee Valley, which pass agricultural-residential areas throughout White and Habersham Counties.  The river then flows into Buck Shoals State Park, a wildlife preserve not yet opened to the public and Mossy Creek State Park just north of Clermont.  The river flows through the newly planned State Park (Don Carter) on the northern tip of Lake Lanier.
Summer is the perfect time to enjoy recreation such as fishing, tubing, canoeing, boating, hiking and camping on the Chattahoochee River banks, shores, and it's watershed to make your vacation a "COOL EXPERIENCE"!