Rated as one of America's 20 Best State Parks by Adventure Journal and one of Georgia's seven wonders, Tallulah Gorge draws admirers as one of the most breathtaking sites.
The Niagara Falls of the Southeast is a 1,000-foot gash in Tallulah Dome that drops the Tallulah River over six waterfalls in one mile. Mountain biking and hiking are popular here, as well as some serious multipitch rock climbing. But the real deal here is boating, rafting and kayaking the Tallulah when the upstream Georgia Power Company opens its dam, a few times a year.
Tallulah Gorge State Park has spectacular 1,739 acres of wilderness with recreational opportunities from Georgia's State Parks.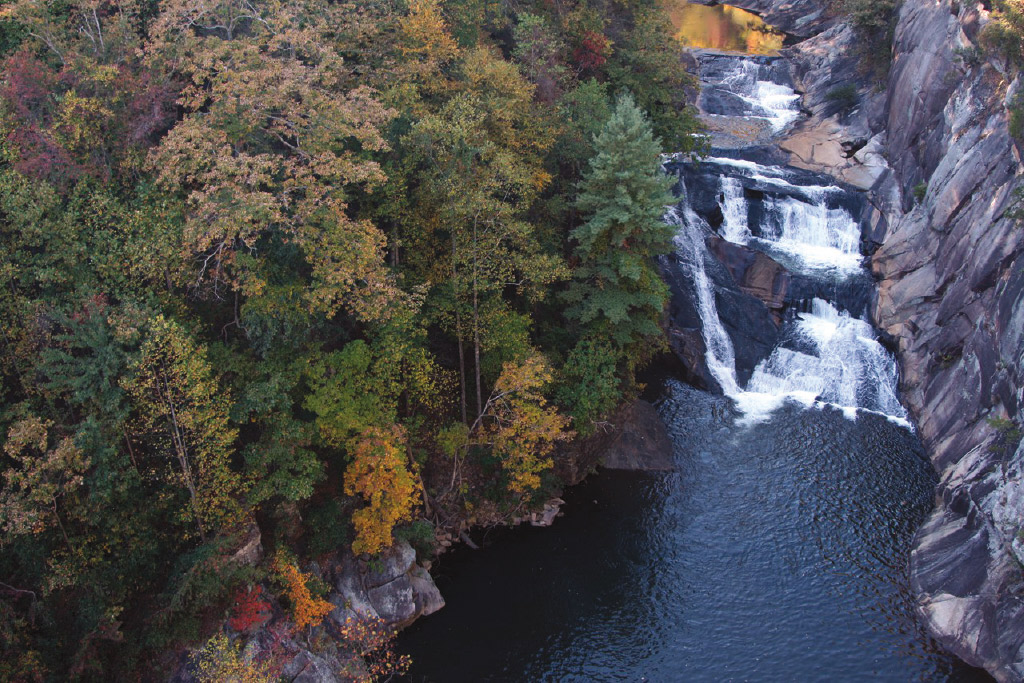 Highlights of Tallulah Falls include:
The Jane Hurt Yarn Interpretive Center that highlights the rich history of this Victorian resort town, as well as the rugged terrain and fragile ecosystem of the area. Additionally, an award-winning film takes viewers on a dramatic journey through the gorge.
Recreation abounds with picnic areas, campgrounds, overlooks, 6 Hiking trails, stairs leading down into the gorge and even a suspension bridge that crosses the canyon 80 feet above its bottom. There is shore and boat fishing on all 3 lakes: Tallulah, Tugalo, & Yonah. Spend the afternoon picnicking at Terrora Beach, or play on the tennis courts. There is a public beach for swimming on Tallulah Lake & public playground located at the day use area of Tallulah Gorge State Park.
Tallulah Gorge State Park is open daily from 8 a.m. until dark. There is a parking fee. The entrance is on U.S. 441 in Tallulah Falls, GA. Access to the canyon bottom is by permit only. Permits are free and can be obtained at the interpretive center, but note that ONLY 100 permits are issued per day. The park is extremely popular and the quota of permits is often filled first thing in the morning.
For more information call 706-754-7981 or visit gastateparks.org/TallulahGorge.