Spring will soon be here and beautiful trees, shrubs, and flowers will soon be in bloom. Quietly tucked away in the North Georgia Mountains, sits a rare and special treasure. A botanical paradise of walking trails that burst with dogwood, tulip magnolias, native azaleas, wild flowers, trillium, and rhododendron. Located on the banks of Lake Chatuge is Hamilton Gardens, a truly enchanted spot, boasting the largest collection of rhododendrons in the state of Georgia.
Hamilton Gardens welcomes visitors to stroll tranquil pine bark trails as they wind through lush foliage of over 400 varieties of rhododendron. Beautiful overlooks, park benches, sculptures, and the stunning views of Lake Chatuge and the majestic mountains surround this 20 acre woodland garden.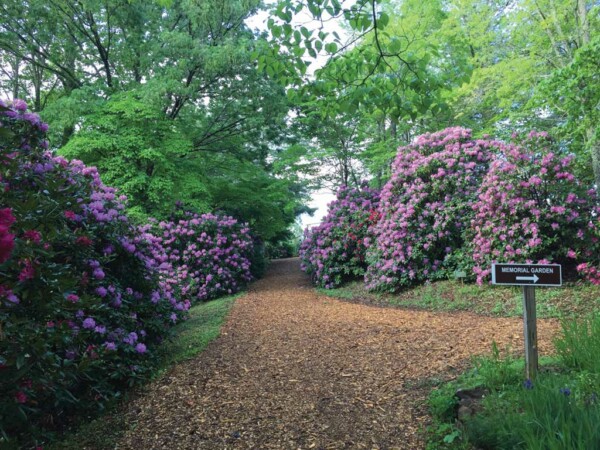 How did this extensive collection form to develop this garden?
Hamilton Gardens initially began in the 1980s with rhododendrons and azaleas that were gifted to Towns County by Fred and Hazel Hamilton. The Hamilton's were collectors of both native azaleas and rhododendrons as well as propagators of the same. Many of the plants located in the gardens are hybrids from their work. They traveled extensively and added to their collection whenever possible.
"A Blooming Affair" is held annually from mid-April to mid-May and offers a spectacular visitor experience. Wildflowers, native azaleas, rhododendrons and many other plants come into full color. Our Garden Ambassadors will greet you at the front entrance on Saturdays and Sundays to tell you more about the Gardens and answer any questions you may have. You can also purchase your own rhododendrons and azaleas on Saturdays and Sundays while supplies last. Please visit our website for more information.
Outdoor enthusiasts are welcome to study the huge diversity of native wildflowers, plants and trees. There is also a 'Let's get growing' lecture series held twice monthly June – September. There are a variety of topics and are presented by guest speakers who are experts in their field. The lectures are usually held on the first and third Friday of the month at 11am. Moonlight Concerts are also popular at Hamilton Gardens. Bring your chair and favorite snack, relax on the West lawn and enjoy the music by popular artists like Dr. Paul and Teddy Baker. Events may be cancelled due to inclement weather, please follow us on facebook or call for last minute updates.
All are welcome to experience the great outdoors at Hamilton Gardens at Lake Chatuge, because beauty surrounds us and everyone loves to walk in a garden to enjoy nature at it's best.
Hamilton Gardens at Lake Chatuge is a 501(c)3 Georgia Corporation and donations are appreciated. Open Year Round, 8 AM – Dusk. CDC social distancing rules are in place. Pets are not allowed.
Located at 96 Pavilion Rd. in Hiawassee, GA 30546 at the top of Georgia Mtn Fairgrounds, Honor system entry fee, for more information call 706-970-0011, visit hamiltongardens.org or follow us on facebook.