From Atlanta, GA 98.4 mi
From Chattanooga, TN 61.5 mi
From Asheville, NC 236.7 mi
From Greenville, SC 179.7 mi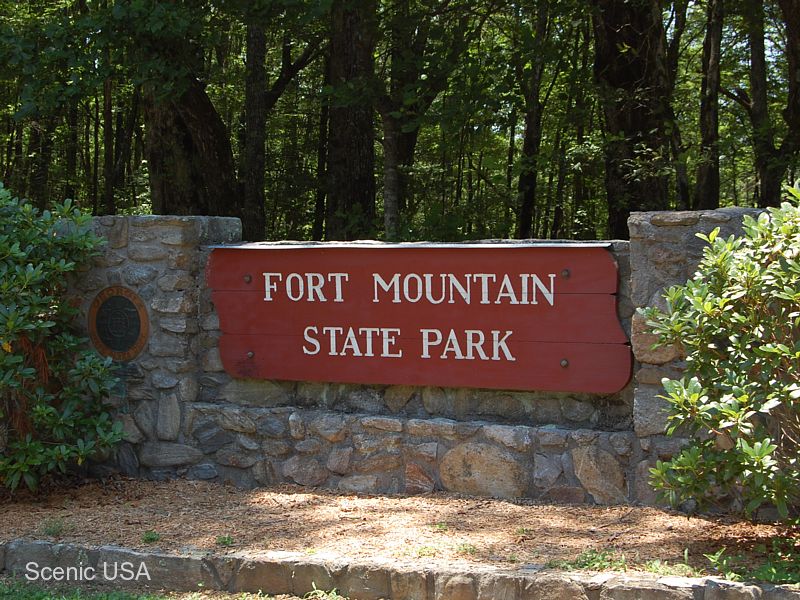 Sitting high above the clouds in southwestern part of the Cohutta Mountains was a mountain top home to Cherokee Indians for hundreds of years. Today their legacy is still felt throughout North Georgia and the mysterious 855-foot long rock wall located in the park still has scholars debating it's origins.
Located just outside Ellijay on State Road 52 to the Northwest, is a winding two lane road that ascends more than a thousand feet with sharp turns and pull offs on both sides. Fort Mountain State Park's entrance then takes you to the park office where you can get information about some of the area's most beautiful trails and overlooks in Georgia.
Trails throughout this national treasure are located in over 3,700 acres of Cohutta Wilderness area that winds through hardwoods, blueberry thickets, crossing streams and circling a serene lake. Reaching heights of 2,850 ft above sea level, Fort Mountain is a great destination for hiking and history lessons alike.
History of the rock formation may go back to pre-Columbain native Americans from 500 AD that made the snake formation. Similar Serpent Mounds of Ohio held ceremonial or religious gatherings. Another myth of Welsh-speaking descendants settled with Native Americans and created landmarks of structures in the region.
Many visitors also stay in Fort Mountain National Park as it offers camping, R.V. Sites, Cottages and Cabins. With the parks many activities including biking, picnicking, horse back riding, fishing, miniature golf & swimming in the season, or geocaching hidden treasures, you'll enjoy lots of fun.
Day tripping or longer excursions usually include a wonderful hike or backpacking venture in one or several of the park's many trails. Enjoy the outdoors on one of the following:
Lake Loop Trail is a kid friendly 1.2 mile loop around the lake, forest, and sandy beach area used mainly in summer.
Stone Wall, Tower and Overlook Trails are 3 trails on the mountain summit totaling a 1.6 mile loop. Here you can visit the serpentine rock wall, explore the restored 1930's stone fire tower, and trek to the mountain's overlook platform for broad sweeping views and stunning sunsets.
Gahutti Trail is a 8.2 mile loop recommended for more experienced backpackers or hikers. Winding through rocky forests you will loop past multiple overlooks and visit a tumbling waterfall.
For more Information to Fort Mountain State Park Call 706-695-2621or visit their site at gastateparks.org