Weekend Walks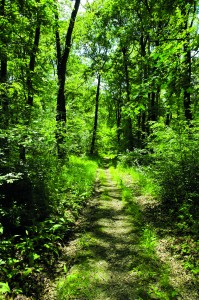 When the weather warms, many visitors enjoying being outdoors and travel to the North Georgia Mountains for hiking opportunities.   To start on small trails for the novice is a simple way to get yourself moving while seeing and appreciating nature. Below are some small walks for the weekend to start your adventure of hiking larger scenic trails in North Georgia.
Short Hiking Trails in the North Georgia Mountains for a Spring Day.
Lake Blue Ridge Trail
Length 0.6 mile – this loop trail follows the shoreline of Lake Blue Ridge and offers a great view of the lake. It is flat and a good trail for families with young children. From Blue Ridge, take Old Business 5/Old US 76 east for 1.5 miles to Dry Branch Road. Turn right and go 3 miles to the entrance of the Blue Ridge Recreation Area. The trail begins and ends in the picnic area.
Short Hiking Trails in the North Georgia Mountains for a Spring Day.
Dukes Creek Trail
Length 0.8 mile – this trail winds its way into Dukes Creek Gorge where it dead ends across from the 300-foot Dukes Creek Falls. Take Highway 76 to GA 75 towards Helen. Turn right on GA 356 and proceed 2.3 miles to the Richard Russell Scenic Byway. Turn right and go 2 miles to the Dukes Creek Falls Parking area.
High Shoals
Five falls in this 170 acre scenic area. Several paths to waterfalls. Take GA75 south from Hiawassee for about 9 miles. Just past GA 180 on the left is a low sign that says "High Shoals". Travel 1.4 miles to the High Shoals Scenic Area.
DeSoto Falls Trail
Length 2.5 miles – this trail begins at the bridge in the lower loop of DeSoto Falls Recreation Area.  Take US 129 south from Blairsville towards Dahlonega.  Entrance is on left – 18 miles from Dalonegha
Talking Rock Nature Trail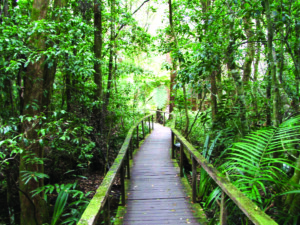 Length – 2.6 miles roundtrip. The trail meanders through the woods near the dams of Carters Lake. The trail passes a small pond, its branch upstream, over a short ridge, to a small loop at trail's end to reverse course back to the beginning trailhead.  From Ellijay take Old Hwy 5 4.3 miles south, turn right onto Hwy 382, follow this road 10 miles until its end at Hwy 136. Turn right, go 3.2 miles to turn right at Carters Lake Dam Visitors Center. The trailhead is on the left, on the road leading to Northbank Park.