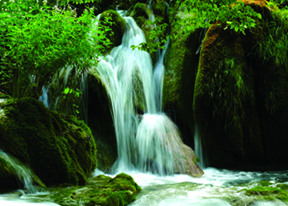 Blood Mountain Falls & Falls on Waters Creek- This beautiful waterfall is located on Blood Mountain Stream. The stream flows almost 20 feet through a rock cut, creating a churning sluice of water.
Directions: From US 19/129 (Turners Corner), go west on US 19 for approx. 1/2 mile to Waters Creek Recreation Area. Turn right, go approx. 2.8 miles and park in the lot to the right. Across the road is a path to the viewing area.
High Shoals Falls- A succession of five waterfalls graces this 170-acre scenic area. These falls have an estimated total vertical drop of 300 feet.
Directions: Take GA 75 north from Helen for 11.4 miles. Turn right on Forest Service Road 283 at the High Shoals sign. Go 1.5 miles on this road to the High Shoals Scenic Area.
Mud Creek Falls- This great waterfall is approximately 100 feet high with an impressive spouting fume down the middle.
Directions: Take Highway 441 north to Dillard. Turn right on GA Hwy 246 and follow signs to Sky Valley. At Sky Valley's entrance gate, turn left. Turn right on Tahoe Rd and follow the trails.
Helton Creek Falls- Two waterfalls, one small, and one large, are located on Helton Creek.
Directions: Go to Helton Creek Road and Forest Service Rd 118, just 1 1/2 miles north of Neel's Gap off Highway 19/129. The road is on the right as you travel north. It is just south of Vogel State Park. You have only .2 mile trail leading from the parking area on Helton Creek Road, to the base of the larger upper falls.