Road Trip to Amicalola Falls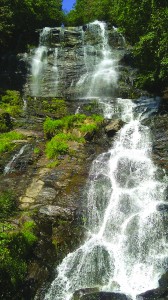 Amicalola Falls State Park is an 829 acre Georgia state park located between Ellijay and Dahlonega in Dawsonville, Georgia. It offers many hiking trails, a guest lodge, restaurant, cabins, a shelter for long distance Appalachian Trail hikers, a campground and access to the eco-friendly Len Foote Hike Inn.
Amicalola Falls State Park  has some spectacular scenery to make this one of Georgia's most popular spring destinations. Hikers come from near and far to celebrate the Appalachian Trail Community and to kick off the annual hike of the famous 2,175 mile trail. From the State Park, an 8.5 mile trail leads to Springer Mountain, which is the southern end of the Appalachian Trail, although there are numerous other trails that provide short day hikes in the park.
At 729 feet Amicalola Falls, considered to be one of the Seven Natural Wonders of Georgia,  is the tallest cascading waterfall in the Southeast where visitors can view the tumbling waters from accessible pathways or hiking trails with staircases. The name Amicolola is derived from a Cherokee language word meaning "tumbling waters".
Amicalola Falls Visitors Center Open Sun – Wed 9am – 5pm, Thurs – Sat 9am – 7pm
Amicalola Falls Lodge Lodge &  Conference Center with Restaurant
Len Foote Hike Inn, operated by a non-profit organization known as the Appalachian Educational Recreational Services, is a backcountry eco-friendly inn that is open year-round and is only accessible via hiking trails.
Forrest Hills Mountain Resort & Conference Center, cabins, spa, trails, horseback riding, carriage rides and many other activities.
Long Creek Falls is located further along the Appalachian Trail in the Three Forks Valley area for backpacking, fishing, and camping.
Dahlonega, GA  - quaint historic town with shopping, dining and seasonal Festivals.
Historical Sites – Dahlonega Gold Museum State Historic Site, The Smith House
Pan for Gold – at the Crisson Gold Mine
Tour Local Wineries - that offer tasting, various events, exquisite dinners, and great live music.