The Corner of Northeast Georgia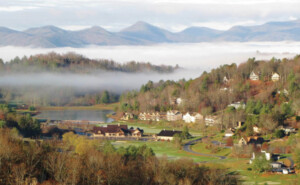 The picturesque valley and vibrant town of Dillard is one of the many attractions that lead travelers to this corner of the North Georgia Mountains of Rabun County. Located just south of the Georgia/North Carolina border, it has become well known for it's antique, craft shops and the award winning Dillard House known for its legendary Southern family-style restaurant.
John Dillard and his family moved to the area in the late 1700's after being awarded a land grant for his service in the American Revolution. Legend has it; that to make peace with the local Cherokee Indians, a gift of a muzzle-loading rifle, a jug of apple brandy, a coonskin cap, and $3.00 was given for all the land between two mountain tops.
The rugged mountains made it difficult to be accessible to the outside world but the remote town flourished from within. John's son, James Dillard, became Justice of the Peace for Rabun county and was elected to the state house in 1824. The family established businesses including a stagecoach way station, boarding house and post office. In 1890, the postal service picked Dillard as the official town name and by 1905, Dillard had a blacksmith shop, livery stable, cobbler, open air market, church, school, and stores. The City of Dillard was incorporated in 1906 and the railroad came in 1907, connecting it to the world.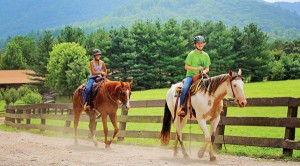 Business increased dramatically for Zack and Mary Dillard who had travelers stay at their boarding facility, known as the Dillard House. In 1916, in what is today known as the Rock House Carrie Dillard opened her own boarding house called Oaklawn. Mary would often send overflow customers to Carrie Dillard as she was also a wonderful cook, gifted gardener and very accommodating hostess. In 1917 Zack and Mary retired and gave all their business and customers over to Carrie, and the restaurant that is known today was officially established. Carrie renovated to enlarge for more dining and lodging facilities. Every guest was treated like family, and Carrie taught that practice of hospitality to her children and grandchildren, alike. Current owner Louise Dillard and her late husband John Dillard assumed control of The Dillard House in 1973 and instituted a number of upgrades including a conference center and greatly expanded the dining capacity. Now in its 100th year, The Dillard House Inn and Restaurant have become famous throughout the area for its traditional home-style meals and authentic Southern hospitality – the unique result of our 200-year heritage.
The nearby the Rabun Gap-Nacoochee School, was founded in 1903 by Andrew Jackson Ritchie, who was another direct descendant of the Dillards. Today the facility is a private high school offering college prepatory academics, sports, student organizations, and the arts, which feature the Rearden Theater's many stage shows that perform to the public through out the year.
Many nearby historical and recreational opportunities make Rabun County a popular stop for nature enthusiast with it's many miles of hiking trails, and recreational facilities on Lakes Burton, Seed and Rabun. The Appalachian Trail, Chattahochee National Forest, and Georgia's second highest point Rabun Bald, at 4,696 ft. provide a stunning backdrop for limitless outdoor adventures.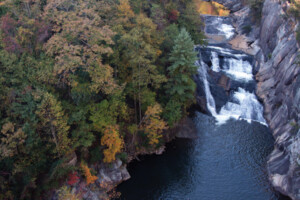 One of the most spectacular sites in the southeastern U.S. is the nearby Tallulah Gorge, a 2,689 acres of vast wilderness includes a 1,000-ft. deep gorge formed by the action of the Tallulah River, and forms six waterfalls known as the Tallulah Falls, which cause the river to drop 500 ft over one mile. This spectacular canyon has a suspension bridge 80 feet above the gorge that overlooks the falls and river. Visitors can learn more about the history at the Jane Hurt Yarn Interpretive Center. The park offers a camping, picnic facilities, a 63-acre lake, fishing, hiking, swimming beach, and tennis courts.
Mountain culture has been extensively documented in Rabun County with Foxfire, that has produced a successful book series known worldwide. This project started in 1966 to record stories from elders in their earlier rural Southern Appalachian community and the Foxfire Museum is located in Mountain City on Black Rock Mountain. The area stretches over 3 miles along the spine of the Eastern Continental Divide making Black Rock Mountain, Georgia's highest State Park.
Many talented artist's works are also found in Rabun Counties at many Art galleries and shops in downtown Clayton or the Hambidge Center founded in 1934. This 600 acre artistic school has residence programs that work on campus and feature composers, choreographers, photographers, scientists, poets, writers, that come from all over the world. The Weave Shed, also displays artistic ceramics and serves as a gift shop. Many talented artist's works are also found in Rabun Counties many Art galleries and shops in downtown Clayton or nearby areas.
Visitors can also get a a "taste of farm fresh produce" at local farm fresh markets and farms that have petting zoo's and a variety of activities including "you-pick", hayrides, gem mining and samples of their jams and jellies. Rabun County also produces many award-winning wines at several vineyards in the area. Each weekend many have events with live music, food and tastings to entertain visitors.
Rabun County is unlimited with natural beauty and abundant wildlife for your perfect mountain getaway. Just a short distance from Atlanta, Asheville, Greenville, or Chattanooga makes it popular with vacationers and second home owners. Travelers enjoy the many scenic routes around every corner as they drive through this peaceful mountain community.
For more information call Rabun County Tourism at 706-212-0241 or visit ExploreRabun.com
Rabun County Chamber of Commerce & Welcome Center is located at 232 U.S. 441, Clayton, Ga 30525