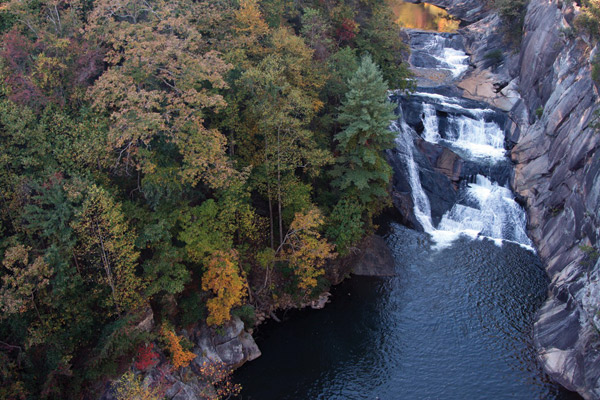 Rabun County is unlimited with natural beauty and abundant wildlife for your perfect mountain getaway. Just a short distance from Atlanta, Asheville, Greenville, or Chattanooga makes it popular with vacationers and second home owners. Travelers enjoy the many scenic routes around every corner as they drive through this peaceful mountain community.
One of the most spectacular sites in the southeastern U.S. is the nearby Tallulah Gorge, a 2,689 acres of vast wilderness includes a 1,000-ft. deep gorge formed by the action of the Tallulah River, and forms six waterfalls known as the Tallulah Falls, which cause the river to drop 500 ft over one mile. This spectacular canyon has a suspension bridge 80 feet above the gorge that overlooks the falls and river. Visitors can learn more about the history at the Jane Hurt Yarn Interpretive Center.
Tallulah Lake has 63 acres, 3.6 mile of shoreline and offers a camping area that includes 50 campsites with electrical/water hookups, tables and grills, playground, and pavilion. The Center also has a park with white sand beach with lifeguard in summer season, lighted tennis courts, covered pavilion, playground, picnic area, fishing pier, nature trails including trail to Tallulah Gorge overlook, and playing field.
If your looking to cool down during the summer Lake Burton is one of the largest lakes in Rabun County at 2,775 acres and 62 miles of shoreline. Offering three activity areas: Jones Bridge Park with two sheltered picnic areas.   Timpson Cove Beach has white sand beach and picnic area.  Murray Cove Boat Launch Area has paved boat ramp for small- and medium-sized boats.
Moccasin Creek State Park is a perfect place for accommodating RV, trailer or tent campers.  Located on Lake Burton it has a fully accessible fishing pier & trout filled creek. Hiking trails with wildlife observation tower, nearby waterfalls, playground, boat dock & ramp make this park's location a perfect spot for exploring.
Lake Rabun is the second largest lake at 834 acres, 25 miles of shoreline, and host to Nacoochee Park. Located on the north end of the lake, Nacoochee Park recreation area is perfect for a picnic & fishing  located just off of Lake Rabun Road. Rabun Beach recreation area overlooks the lake to offer camping, hiking & swimming.  Hike the 1.3-mile Rabun Beach Trail which ends at Angel Falls.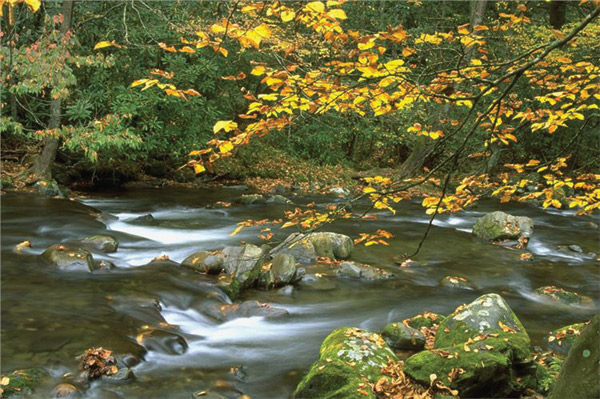 The Appalachian Trail, Chattahochee National Forest, and Georgia's second highest point Rabun Bald, at 4,696 ft. provide a stunning backdrop for limitless outdoor adventures in exploring nature.  Nearby Chattooga River that borders the Georgia/ South Carolina line also offers whitewater rafting during the summer months.
Mountain culture has been extensively documented in Rabun County with Foxfire, that has produced a successful book series known worldwide. The Foxfire Museum is located in Mountain City on Black Rock Mountain which is Georgia's highest State Park.
Just north of Mountain City is Dillard and the famous Dillard House founded in 1917 where southern style home cooked meals are still served today. Many talented artist's works are also found at the nearby Hambidge Center founded in 1934. This 600 acre artistic school has residence programs that work on campus and feature local artists works.  The Rabun Gap-Nacoochee School, circa 1903, is now a private college preparatory school features theRearden Theater's many stage shows that perform to the public through out the year.
The official town of  Clayton is the heart of Rabun County and offers that "Hometown Feeling" that every visitor will enjoy.  Named after Judge Augustin S. Clayton, in 1823; where he served both the Georgia House of Representatives and the Georgia Senate.  The Rock House, circa 1935 is a charming historical gem to downtown and along with the Civic Center helps in hosting year round events. Stroll leisurely on Main Street through the local shops that feature the best in art, antiques, books, furniture, gifts, wine and so much more! Dine at one of the fine restaurants or experience the old-fashioned drug store soda fountain!
Rabun County also produces many award-winning wines at several vineyards in the area. Each weekend many have events with live music, food and tastings to entertain visitors.
Whether you want to get outdoors or stay in a scenic venue, you'll find everything for the perfect get away to rest, relax and renew.
For more information call Rabun County Tourism at 706-212-0241 or visit ExploreRabun.com.
Rabun County Chamber of Commerce & Welcome Center is located at 232 U.S. 441, Clayton, Ga 30525