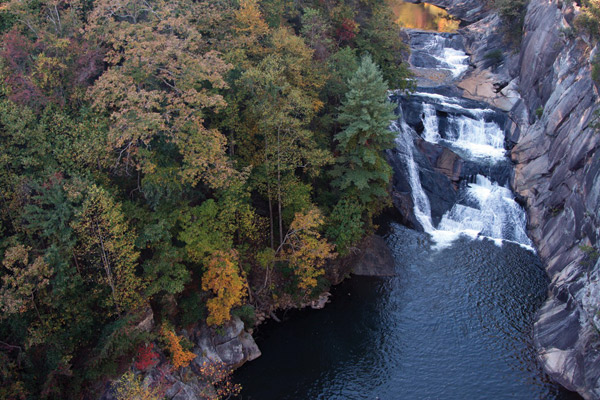 As early as 1760, explorers came to a portion of the Appalachian Mountains, which was sometimes called the "Cherokee Mountains." The area that would eventually become Clayton was called the Dividings because it sat at the intersection of three important Cherokee trails. Explorer and naturalist William Bartram came through the Dividings in May 1775 while exploring what would later become Rabun County and portion of the hiking trail known as the Bartram Trail.
Despite the prominence of the Cherokee, there is evidence that other Native Americans were in the region before them. A mound similar to others across North Georgia is located about one mile east of Dillard, Georgia and is likely a remnant of an earlier mound-building Native American culture known as the Mississippian culture. The mound location is listed on the National Register of Historical Places as the Hoojah Branch Site.
John Dillard and his family were among the first documented settlers in the area in 1794 as a result of a land grant for his service in the American Revolution.  Cherokee ceded the land to Georgia in 1817 and the Georgia General Assembly passed an act to create the county on December 21, 1819 becoming Georgia's forty-seventh county.   The county is named for William Rabun, who served as the 11th Governor of Georgia.  Clayton was incorporated December 13, 1823 as Claytonville but was later shortened to Clayton.   The city was named after congressman, Judge Augustin S. Clayton.
Rabun County reveals much of the same viewpoint as one who earlier hiked a trail or viewed the scenic wilderness with a vast array of high, rugged mountains, deep valleys and raging rivers. One cannot actually see the Eastern Continental Divide bordering Georgia's 2nd highest peak, Rabun Bald; yet the ridge hosts over 60 peaks between 3000-4000 feet in elevation along the Bartram Trail.
Black Rock Mountain State Park has spectacular views with many scenic overlooks and hiking trails. Full slopes of blooming trilliums and other species among hidden boulder fields continue to astound botanists with rare flora finds.
Nearby Foxfire's Museum & Heritage Center offers a self-guided tour through an authentic village showing the trades of early settlers.
The  Niagara of the South: Tallulah Falls and its 1000-foot/2-mile long chasm is now called Tallulah Gorge State Park. Visitors can hike rim trails to several overlooks, or they can obtain a permit to hike to the gorge floor. A suspension bridge sways 80 feet above the rocky bottom, providing spectacular views of the river and waterfalls. Tightrope walkers have twice crossed the gorge, and visitors can still see towers used by Karl Wallenda.  Exhibits in the park's Jane Hurt Yarn Interpretive Center highlight the rich history of this Victorian resort town, as well as the rugged terrain and fragile ecosystem of the area.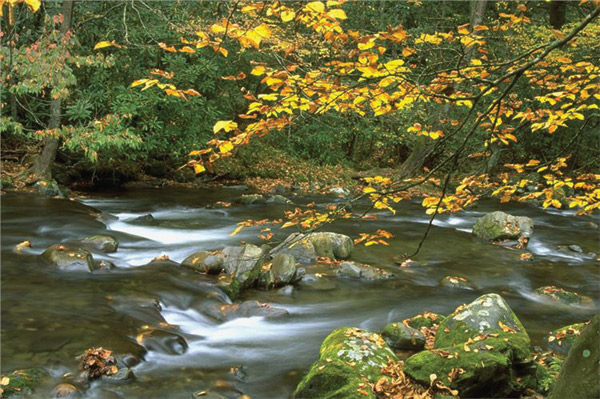 Lakes Burton, Seed, Rabun and Tallulah are perfect retreats for visitors escaping the heat as folks migrate to cottages (and now large estates) along Rabun's lakeshores. Memories are still formed each summer at numerous recreation campground facilities and nearby Moccasin Creek State Park. Ttrout-filled creeks and Lake Burton make a prime spot for skiing, boating and fishing.
Nearby towns just north of Clayton on 441 have some historic sites including the Rabun Gap Nacoochee School (college prep founded in 1903).  The Dillard House, established in 1917 offers family style cooking and is host to a quaint little town of antique shops that sits in a valley surrounded by magnificent mountains. Hear stories of Cherokee settlers while visiting Betty's Creek Valley and view a working grist mill-Barker's Creek Mill on the property of the Hambidge Center for Creative Arts & Sciences listed on the National List of Historic Places.
Next, take a scenic drive on Highway 246 toward Sky Valley and look back over the Chattahoochee National Forest lands covering more than 60% of Rabun County and get a taste of the aerial perspective from several roadside or trail lookouts.
Evidence of a rich cultural heritage is highlighted in creative ways throughout the county where a visitor can step back in time and experience the simple pleasures of life. Following the old path of the railroad, the town of Tiger remains famous for its apple orchards and now vineyards produce award-winning wines. Take back fresh produce, jams, or jellies from fresh farms like Hillside Orchard that have activities for the whole family including gemstone mining, corn maze, and U-pick apples and berries.
Visitors, can also travel East on 76 takes you to the wild and scenic Chattooga River where wildwater rafting and kayaking guides will guide you through the most inaccessible rugged territories of the region.
Stay in one of the many B& Bs, hotels, campgrounds, cabins, or resorts and immerse yourself to enjoy the beauty.  Take a short hike to a hidden waterfall, golf, fish, bike, canoe, or turn off on the side roads and visit mom-and-pop stores. The downtown district of Clayton thrives with contemporary art, traditional folk galleries, plus refined rustic antique shops, with live entertainment from restaurants and festivals.
Clayton is the place to spend the Summer or Vacation in the Natural Beauty. For more information visit:  ExploreRabun.com