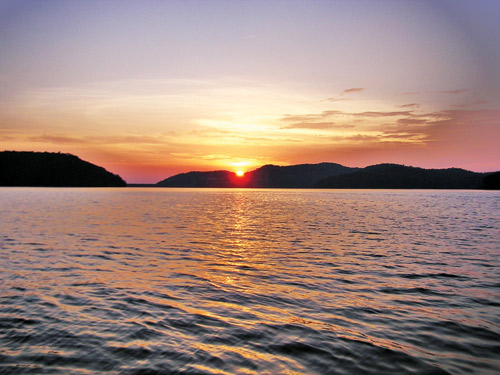 If you are looking for a quite getaway with breathtaking vistas and seclusion that are hard to find anywhere else,  then travel west of Ellijay to the shorelines of Carters Lake.
Built and owned by the US Army Corps of Engineers it is a private lake without docks or houses along the shoreline. The lake is fed by the Coosawattee River out of Ellijay and is located in both Gilmer and Murray Counties. Carters Lake is one of the deepest reservoir lakes in the North Georgia Mountains, at a depth of 450 ft., surface area of 3,200 acres and 62 miles around the shore. Named after Farrish Carter, a prominent businessman who profited from military supplies in the War of 1812, he had amassed acreage plus diverse business interest throughout the South.
The sparkling waters offer a variety of outdoor recreational opportunities including camping, hiking, bird watching, boating, mountain biking, fishing, hunting and picnicking.  Although fishing is the most popular to catch bass, bream, crappie, walleye, and catfish; visitors can access the lake by canoe, kayak, powerboat or sailing.
Several campgrounds with many amenities are located around Carters Lake including Doll Mountain, Woodring Branch, and Harris Branch Beach.  Visitors can rent boats or stay in a cabin at Carters Lake Marina that will have all your supplies for a day of fun. Whether you'd like to get a bite to eat at the restaurant or picnic at the camping grounds, many spend the day at the beach area for swimming.
Hiking and biking trails are located in various areas around the lake.  Big Acorn Trail (easy) begins at the Carters Lake Visitor Center that displays incredible views of the lake and information on area wildlife, flora, and fauna.  Talking Rock Nature Trail (moderate) is one of the longest at two miles and boasts a variety of trees and ferns on the lake.  Oak Ridge Nature Trail (moderate) is located in Woodring Branch Park and splits into two loops that are both about half mile walks.   Tumbling Waters Nature Trail (easy/moderate) is off Ridgeway Park and overlooks the cascading waters of Tails Creek, just slightly over a miles hike.  Hidden Pond Songbird Trail (easy) begins d in various areas around the lake for the novice to the advanced to have a day to enjoy the scenic beauty. at the south end of Carters Lake Park and is about one mile crossing a stream into beaver pond.
Nearby Ellijay has much to offer and has become "The Pick" for everyone to rent a cabin, camp, or stay in comfortable lodging facilities during the Fall season. The combination of the mild temperatures and the rich soil of Gilmer County are ideal for Ellijay being the "Apple Capital" of Georgia, providing more than 600,000 bushels of delicious mountain grown apples each year.
Gilmer County has 439 square miles of breath-taking beauty, including the Ellijay and Cartecay Rivers as they come together to form the Coosawattee River.   Smaller creeks like Turniptown and Mountaintown offer outdoor enthusiasts another scenic backdrop.  The Cartecay's natural progression form flat-water to Class III rapids and many of the waterways have plenty of play spots for paddlers, kayaks, canoeing, or tubing.
Discover the simple pleasures of small town life as Ellijay is a true " Main Street" community where you'll find the town square beautifully accented with brick-lined sidewalks and a round-a-bout traffic circle by the courthouse.  Quaint shops fill the downtown with antiques, art galleries and unique restaurants. Shop the many stores from antiques to outfitters who can help find what you need.   Discover many of the locally-made crafts including rustic furnishings, floor rugs, forged ironwork, and a wide selection of quality home goods.
The Gilmer Arts and Heritage Association offer a wide variety of performances throughout the year.   The GAHA Community Theatre stages many plays, B.E.S.T. Concert series, Studio Tours of local galleries and Ellijay Under The Stars outdoor movies.
Kids of all ages will enjoy the River Park on the banks of the Coosawattee River, which offers picnic areas, tennis courts and walking trails along the river. Whitepath offers an 18-hole golf course with driving range and practice green.  Many recreational activities for teens and adults are spread out throughout the county.
If you like to explore the wilderness you will find miles of trails for hiking, biking, backpacking, camping and horseback riding including nearby Amicalola Falls and Fort Mountain State Park to experience this natural wonderland. One hundred plus miles of single-track mountain biking trails have earned Gilmer County the official designation as Georgia's "Mountain Biking Capital" No off season here, with maintained year-round trails that are kept by volunteers and biking associations.
Local Agra-culture activities offer picking pumpkins in the Fall Corn Mazes, and Wildlife sanctuary. Several apple orchards are spread across the picturesque valley along State Hwy. 52 East, known to locals as "Apple Alley". Other apple orchards are located on Hwy. 76 North / S.R. 282 and Hwy. 515.  They  offer a year-round selection of baked goods, including apple pies, fritters, cookies, breads including gifts and local crafts.  Orchard houses also include fresh grown local peaches, nectarines, produce, jams, ciders and juice. Several orchards feature "Pick Your Own Apples" in the Fall to help you get the full experience of the beauty and taste fresh from the tree.
The Annual Ellijay Apple Festival is held every year in the middle two weekends of October at the Fairgrounds. The 4-day event celebrates the apple harvest and features arts, crafts, quilts, food, apples, music, face painting, and much more. 300+ exhibitors bring unique specialty items including food that is unbeatable every year.
Whether your on vacation or a weekend getaway destination,  "Pick" Ellijay and Carters Lake  to get a taste of picturesque views of beautiful waterways, mountain trails, and a core of recreational activities that will keep you coming back.
For more information about Carters Lake, call 706-334-2248 or Visit www.GilmerChamber.com for your visit to Ellijay and surrounding areas.