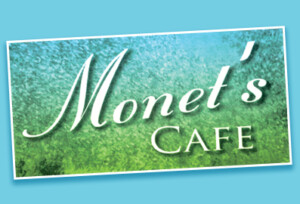 Monet's Cafe has over 40 years of experience in serving delicious food to family and friends. And that's just the current generation!
Monet's Cafe is owned and operated by Joan and David Drake who bring a European flair to the North Georgia dining experience. Steaks grilled to perfection, tantalizing seafood, a large variety of pasta dishes, and "home-made" pizza are just a few of the items that bring regular customers back again and again.
New patrons will be delighted with the food and atmosphere. Described as "friendly elegance" at its best, Monet's Cafe is the place for special occasions and everyday dining.
House specialties change with the seasons. Favorites include Chicken or Veal Cutlet Marsala (breaded chicken or veal sauteed in a marsala wine sauce with mushrooms and tomatoes), Pollo Antoinette (Marinated chicken breasts, layered with cappicola ham and provolone cheese, grilled to perfection and topped wit a mushroom/lemon butter sauce), and Mary Italy Jambalaya (Shrimp, Mussels, chicken, andouille sausage and scallops with onions, peppers, and tomatoes in  a very spicy sauce served over linguini).
(706) 745-5305
Visit our website
130 Blue Ridge Street, Blairsville, Georgia 30512
(One block off the Square)