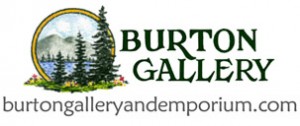 Burton Gallery
Welcome to Burton Gallery, a northeast Georgia tradition of fine art and craft … paintings, pottery, wood, jewelry, folk pottery, and other handmade work by local artists.
Don't let the word gallery fool you – the last thing you will find when entering Burton Gallery & Emporium is an antiseptic gallery atmosphere.
Marlene Eck Weldon strives to create a warm, inviting place to stop in after a day of enjoying the lake or the Highway 197 scenic drive.
Burton Gallery welcomes you to browse through the shop, enjoy the Koi pond where children can feed the fish, or sit on the trellised bench and enjoy the babble of the pond's waterfall.
Customers feel free to stroll in the casual environment as Marlene and her staff share the stories behind the work, and motivation behind some of the area's most creative residents.
This eclectic collection ranges from fine art to folk art, intermingled with high quality handcrafted items: paintings, prints, folk art, wood carvings, folk and utilitarian pottery, hand painted furniture, turned wooden bowls, wind chimes, handmade jewelry, baskets …
Burton Gallery is just 14 miles east of Helen and 16 miles north of the square in Clarkesville, and less than a two hour drive from Atlanta or Asheville.
(706) 947-1351
150 Burton Dam Road,
Batesville Community (Clarkesville), Georgia 30523