Community Spotlight on Rabun County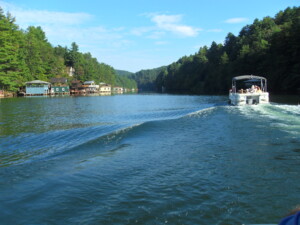 Only 90 miles from Atlanta, Lake Rabun is the perfect place to get away from the heat and traffic of the big city. Since 1915, families have enjoyed its cool waters, July 4th celebrations, camping, boating, and beautiful mountains that surround it.
Lake Rabun and Lake Burton were formed in the early 1900's from the Tallulah River and have an interesting history. By the turn of the century, Rabun County and its neighbor to the south, Habersham County, were home to the largest tourist attraction in the state: Tallulah Gorge. Thousands of people would visit each year and the area was frequently compared to Saratoga Springs, NY, for its ability to attract the wealthy. During the Railroad boom in the 1890's, the Tallulah Falls Railroad ran from Cornelia, GA, to Franklin, NC, and for more than 60 years, it provided access to the falls and other Rabun County locations for tourists.
The Georgia Railway and Power Company, now known as Georgia Power, was also attracted to the area for the hard rock gorges and dramatic drops which made Rabun County the perfect place for a series of dams to generate power. Beginning in 1911 with the dam at Tallulah Falls and continuing until 1925 with the completion of the Terrora Hydro Plant, Georgia Power built a series of four dams on the Tallulah River in Rabun County. The accompanying hydroelectric plants are still in operation today. The reservoirs created completely change the landscape of Rabun County and contributed to its growth, beauty and enjoyment.
From north to south, the lakes and dams are:
Lake Burton & Burton Dam
The largest lake in the series at 2,775 acres and 62 miles of shoreline. Offering three activity areas: Jones Bridge Park with two sheltered picnic areas, Timpson Cove Beach has white sand beach, picnic area, and restrooms. Murray Cove Boat Launch Area has paved boat ramp for small- and medium-sized boats.
Lake Seed & Nacoochee Dam
240 acres, 13 mile of shoreline, and two activity areas. The Lake Seed Boat Launch Area has gravel boat ramp for small boats and the Lake Seed Campground offers a white sand beach, wilderness campsites, picnic area, and latrines.
Lake Rabun & Mathis Dam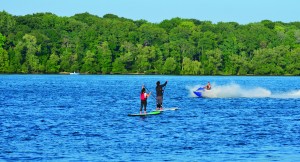 The second largest lake at 834 acres, 25 miles of shoreline, and host to Nacoochee Park. Located on the north end of the lake, Nacoochee Park recreation area is perfect for a picnic, fishing on a river-like setting or just relaxing. There is also a view of the Nacoochee dam and powerhouse. The park contains picnic facilities and a bank fishing area. It is located just off of Lake Rabun Road. Rabun Beach recreation area, owned by the U.S. Forest Service, overlooks beautiful Lake Rabun and the north Georgia mountains. It offers camping, hiking, swimming, boating and fishing. 80 tent and trailer campsites are available, some with electrical and water hookups.  Hike the 1.3-mile Rabun Beach Trail which ends at Angel Falls. The swim area has two picnic tables and a roped off area for swimmers. A fee is required for fishing, which catch includes bass, bream, perch, trout and catfish. The boat launch is open mid-May to mid-November from 7am – 10pm.
Tallulah Lake, Terrora Plant & Tallulah Falls Dam
63 acres, 3.6 mile of shoreline and home to the Terrora Center. The Terrora Park and Education Center offers a camping area that includes 50 campsites with electrical/water hookups, tables and grills, bath house with hot showers, playground, and pavilion. The Center also has a park with white sand beach with lifeguard in summer season, lighted tennis courts, covered pavilion with stage and dressing rooms, playground, picnic area, restrooms, fishing pier, nature trails including trail to Tallulah Gorge overlook, and playing field. The Education Center hosts permanent exhibits on electricity production and the North Georgia Hydro Group, rotating displays on the area's history, natural mountain habitat, pioneer culture and crafts, Conference room with A/V equipment for group meetings, information on Georgia Power's recreational facilities.
If you are lodging or staying in the area, you'll enjoy early morning skiing on glassy waters before the tubing and jet skis get going. When the days wind down, cocktail cruises begin and some very rare and classic wood boats, cruising the lake at near idle speed, begin to appear. A favorite weekend on Lake Rabun is the weekend of July 4th where the association sponsors such activities as a BBQ with mountain dancing, fireworks, a wood boat parade following boat church, and a 5k/10k road race.
Nearby, Clayton offers that "Hometown Feeling" that every visitor will enjoy.  Stroll leisurely through the local shops that feature the best in art, antiques, books, furniture, gifts, wine and so much more! Dine at one of the fine restaurants or experience the old-fashioned drug store soda fountain! You'll find everything for the perfect get away to rest, relax and renew. Rabun County invites you to stay in this wonderful North Georgia Community whether it's hotel lodging, camping, or staying in one of our bed and breakfast inns. Dine in our restaurants featuring our local fresh farm produce, shop for mountain crafts in our galleries, and of course, bring your camera to take back memories of all of our outdoor natural beauty.
Rabun County is very popular for outdoor activities, including hiking trails, lakes, rivers, and National Forest, that bring hundreds of thousands of people every year to this peaceful and quiet corner of heaven. We hope you'll enjoy your summer fun where the "Waters Cool The Day".